Advance Your Career with Our Training and Certificate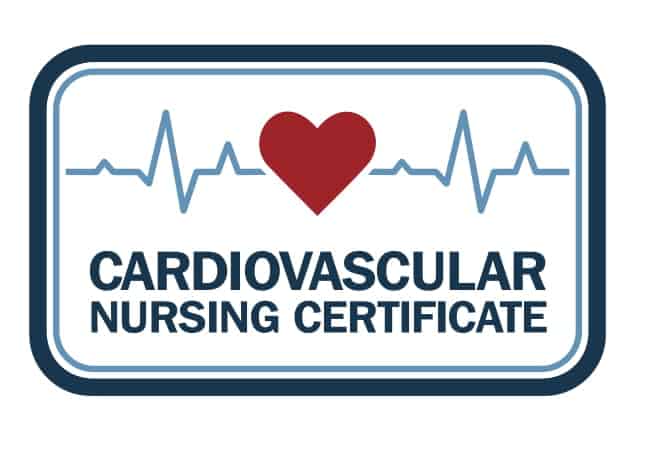 PCNA's Cardiovascular Nursing Certificate recognizes your commitment to cardiovascular nursing excellence. While not a replacement for ANCC's Cardiovascular Nursing Certification, the certificate offers an educational experience for nurses that strengthens your professional knowledge, competence, and confidence relative to cardiovascular nursing. 
Our Cardiovascular Nursing Certificate is designed for advanced beginners, and this first-in-class global certificate program combines clinically rigorous training in a user-friendly format with practical activities that make learning easier and compelling and sustains the retention of knowledge over time.  
The online certificate includes modules on the following topics:
Global Burden of Cardiovascular Disease (CVD) and Strategies for Population Health

Pathophysiology of Atherosclerotic CVD

Cardiovascular Assessment

Cardiometabolic Risk Management

Atherosclerotic CVD Prevention and Management

Atrial Fibrillation

Heart Failure

Cardiovascular Pharmacology

Communication and Person-centered Care for Patients with CVD

Lifestyle/Behavior Change Counseling

Putting Research into Practice

Leadership and Advocacy
For nurses who plan to pursue ANCC's Cardiovascular Nursing Certification, the PCNA Cardiovascular Nursing Certificate is a great first step.
Take the next step in your cardiovascular nursing career and get started on your certificate today
Cardiovascular Nursing Certificate Requirements
The Cardiovascular Nursing Certificate Program was designed for nurses providing care to patients with, or at risk for, cardiovascular disease at the nursing proficiency level of advanced beginner as a cardiovascular nurse. Nurses who have a minimum of 2,000 hours of clinical experience will be able to successfully engage in this program.
While the certificate was designed with nurses in mind, other cardiovascular care team members will benefit from the course.
Get Started on Your Cardiovascular Nursing Certificate
You can register for the Cardiovascular Nursing Certificate Program by purchasing it here. The program cost is $125 USD for non-members, $99 USD for PCNA members, and $25 for low-income countries. You can also apply for a scholarship.
Once you complete your registration, you will be able to access the program and begin immediately! The estimated time to complete this self-paced program is 15 – 18 hours. PCNA is encouraging participants to complete the program within three months. 
In order to complete the Cardiovascular Nursing Certificate Program and obtain your professional certificate from PCNA, complete all modules in this program, including the self-assessment exercise prior to beginning the program and the pre- and post-tests for each module. A 70% passing score on the module post-tests is required to advance to the next module. You will have an unlimited number of attempts to pass a module.
Thank you to Boehringer Ingelheim and Eli Lilly Alliance, Boehringer Ingelheim International, Sanofi U.S. /Regeneron Pharmaceuticals, Inc. Alliance, Merck, Sharp, and Dohme Corp, Amgen Inc., and Bristol Myers Squibb and Pfizer Inc. Alliance for their support of this program.
Cardiovascular Nursing Certificate FAQ
Hear what nurses are saying about the Cardiovascular Nursing Certificate