Your Digital Resource for Stroke Prevention Guidelines and Tools
Designed with busy clinicians in mind, the National Guidelines and Tools for Stroke Prevention: A Guide for Nurses provides a snapshot of national guideline recommendations for the prevention of stroke.
The tool is accessible on your desktop, laptop, tablet or phone. Just search the table of contents for the specific recommendation you are looking for and one click will take you there.
The digital resource is provided complimentary for PCNA members, but you must be logged into your account to access the tool. Join as a member today to take advantage of member pricing.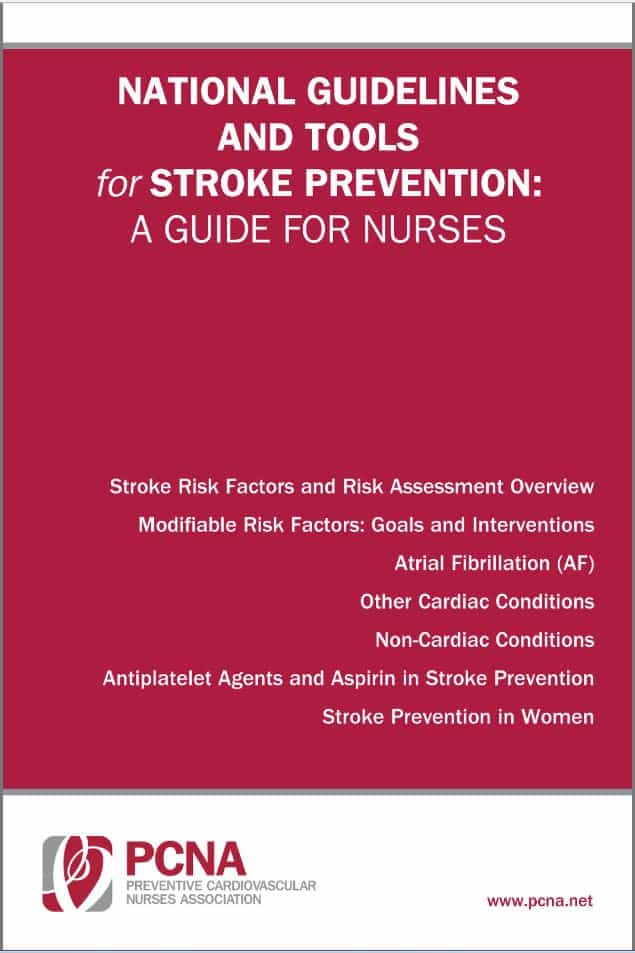 PCNA Stroke Prevention Guide for Nurses
More than 90% of strokes are due to modifiable risk factors. This resource will help you understand how to help reduce the risk of stroke for your patients becoming one of the nearly 800,000 people in the United States to suffer a stroke each year. With a variety of tables, links and printable PDFs, this electronic guide will help clinicians understand and apply guidelines-directed prevention and treatment strategies. Sections include:
Primary Prevention of Stroke
Atrial Fibrillation
Other Cardiac Conditions
Non-Cardiac Conditions
Antiplatelet Agents and Aspirin in Stroke Prevention
Stroke Prevention in Women
Secondary Prevention of Stroke
Supported by independent grants by Boehringer Ingelheim USA and Bristol-Myers Squibb/Pfizer.
Take the short tutorial as you open the document to help navigate the tool. Directions for navigating the tool can be found here.
Disclaimer: Please be aware that these forms include a sample of current clinical guidelines. However, clinical guidelines (federal, state, local, or those issued by clinical organizations) change over time, so the reader should remember to investigate any recent legal or clinical developments.