Chronic Kidney Disease Patient Education Tools You Need for Your Clinical Practice
The Preventive Cardiovascular Nurses Association has developed this Chronic Kidney Disease patient education handout for nurses and other healthcare providers to use with patients. And best of all, most of our tools are free for anyone to download!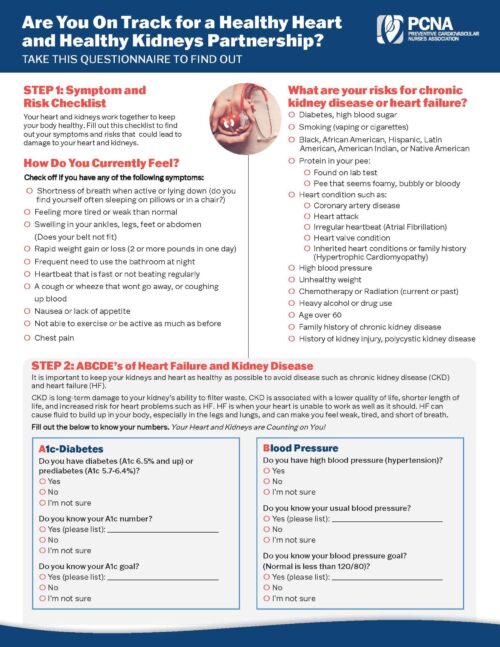 Chronic Kidney Disease and Heart Health Screening Tool
Identify heart failure patients with chronic kidney disease (CKD) with this four-page screening tool. The questionnaire focuses on risk factors for CKD, educates patients on connections between kidney and heart health, and helps patients develop an action plan.
This tool can be used in either clinical or outreach settings. Use our screening event toolkit to plan your next cardiovascular-related screening event.
Free to download (login required)
Funded through an educational grant from: Boehringer Ingelheim, Bayer, and AstraZeneca.
Disclaimer: This and other PCNA educational materials are for information purposes only and are not intended to replace medical advice or diagnose or treat health problems. Health-related decisions should be made in partnership with a healthcare provider. It is the reader's responsibility to seek out the most current, accurate information.