Resources to Help Your Patients Access Innovative Medicines
Innovative therapies to prevent and treat heart disease and stroke fill an important healthcare need for many. The Preventive Cardiovascular Nurses Association has several resources that provide strategies and tips to help patients get the medicines they need. Our resources include:
Nonstatin Prior Authorization Checklist
Health Care Provider Tip Sheet: Implementing Effective Treatments
Patient Tip Sheet: Getting the Medicines You Need
Video: Tips for Partnering with Patients to Help Them Access the Medicines They Need
Non-statin Prior Authorization Checklist
Developed through a unique collaboration of healthcare professionals and payers, this checklist is designed to identify eligible patients for PCSK9 therapies and support providers and payers in developing evidence-based processes for appropriate access.
Included in this guide:
Common ICD-10 codes identifying underlying cardiovascular disease
Clinical rationale establishing statin intolerance or other evidence-based reasons why patients may not be maximized on statin therapy
Easy-to-use table summarizing lipid-lowering treatment history
Health Care Provider Tip Sheet: Implementing Effective Treatments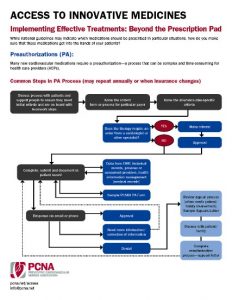 Learn how to navigate administrative systems, maximize efficiency of the prior authorization process, and improve nurse job satisfaction, adherence, and patient outcomes. This tip sheet is focused on accessing PCSK9's, Novel Oral Anticoagulants (NOAC), and new heart failure therapies.
Patient Tip Sheet: Getting the Medicines You Need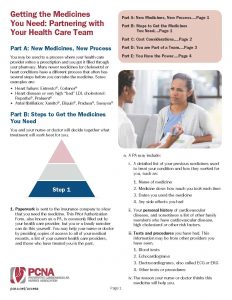 Share this tool with your patients to help them better understand the prior authorization (PA) process, and their role in getting—and taking—innovative medicines.
Thank you to program sponsors for PCNA's Access to Innovate Medicines campaign: Amgen, Inc., Bristol-Myers Squibb/Pfizer, Novartis Pharmaceuticals, Sanofi/Regeneron.
Disclaimer: Please be aware that these forms include a sample of current clinical guidelines. However, clinical guidelines (federal, state, local, or those issued by clinical organizations) change over time, so the reader should remember to investigate any recent legal or clinical developments.