ATTR -CM Tools for Providers
Transthyretin Amyloid Cardiomyopathy (ATTR-CM) is a potentially fatal disease that causes stiffening of the heart walls. Learn more about how to help improve outcomes for patients with our ATTR-CM provider tools.
Amyloidosis Diagnosis Consultation: What Am I Seeing?
This 8-minute video tunes into a conversation between two expert Cardiac Amyloidosis clinicians, a cardiologist and a nurse practitioner. The duo reviews a Cardiac Amyloidosis patient case study, breaks down the echo report with helpful images and reviews red flags as well as common Amyloidosis mimickers. Find clinical pearls and in-depth explanations regarding the recognition and diagnosis of Cardiac Amyloidosis.
Be sure to tune into the Heart to Heart Nurses Podcast with a nurse practitioner and sonographer discussing Amyloid Detection: Checking All the Boxes.
Content and messaging for this video was developed by PCNA with support from Pfizer Inc.
Podcasts: Nurse Navigation in ATTR-CM
This three-part podcast series highlights best practices in the diagnosis and management of ATTR-CM (Transthyretin Amyloid Cardiomyopathy). Whether or not your job title includes the phrase 'nurse navigator,' the role of helping patients navigate their ATTR-CM diagnosis and management can be complex. Find clinical pearls and related resources to help you, your colleagues, patients, and family members/caregivers help improve patient outcomes.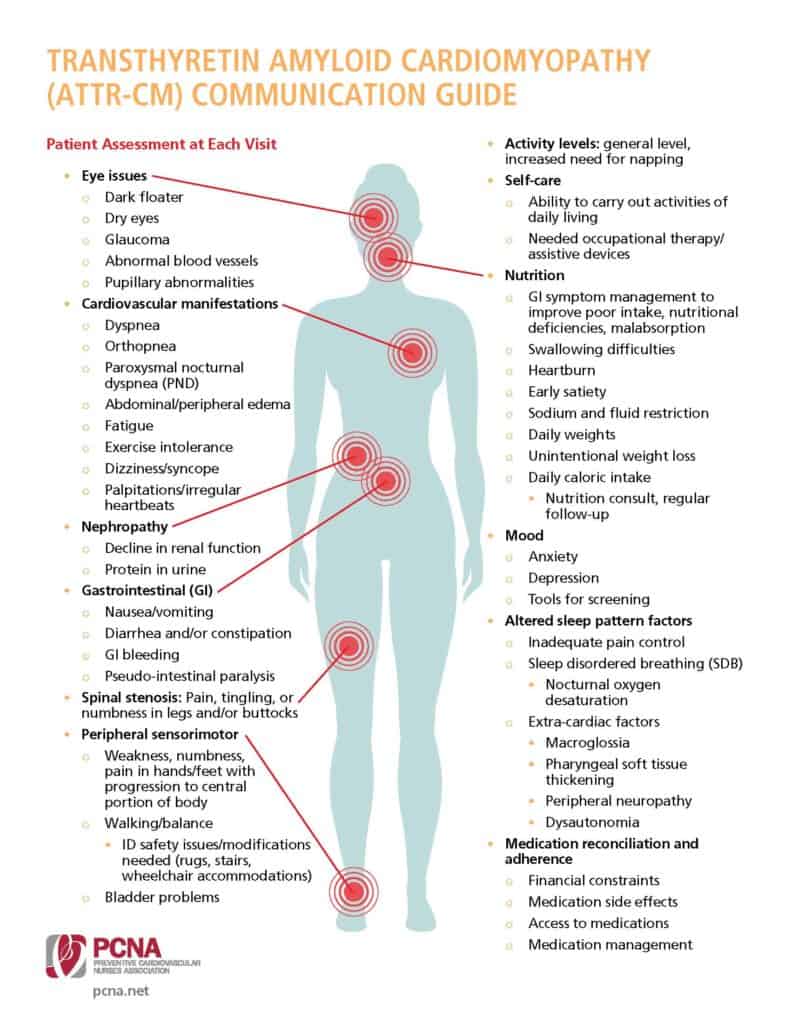 Transthyretin Amyloid Cardiomyopathy (ATTR-CM) Communication Guide
Caring for patients with Transthyretin Amyloid Cardiomyopathy (ATTR-CM) can be challenging - each patient may experience a variety of different symptoms and several specialties on the health care team may be involved.
The ATTR-CM Communication Guide is designed to give nurse navigators and other providers the resources and tools to improve outcomes for patients with ATTR-CM.
Reviewed January 2023
Free to download (login required)
Disclaimer: Please be aware that these forms include a sample of current clinical guidelines. However, clinical guidelines (federal, state, local, or those issued by clinical organizations) change over time, so the reader should remember to investigate any recent legal or clinical developments.