Recognizing Leaders in Advocacy
The Preventive Cardiovascular Nurses Association Advocacy Award recognizes our member's leadership in advocacy at the local, state, or federal level in the areas of cardiovascular disease prevention or advancing the nursing profession. The winner of this award works strategically to bring awareness and support to initiatives through direct interaction with legislators, grassroots or the media.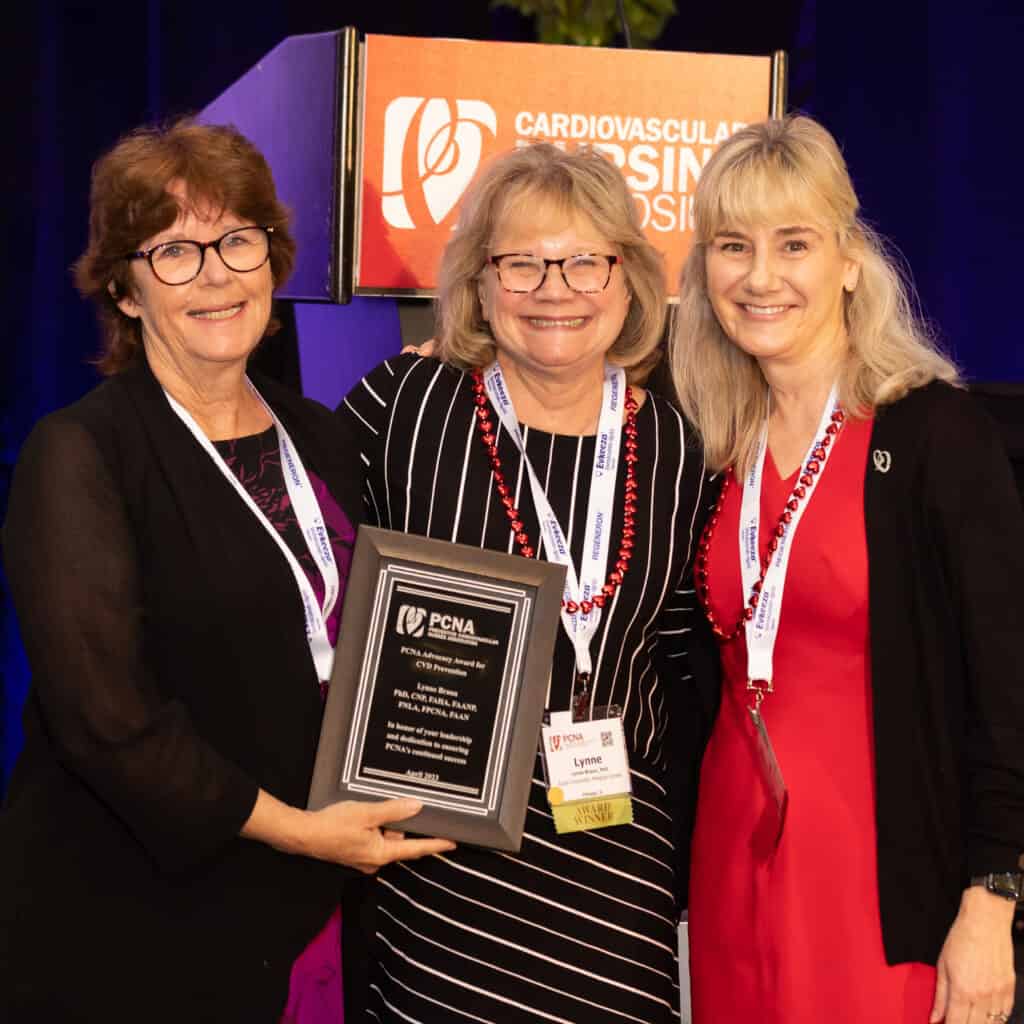 Award
The winner is recognized at the Awards Ceremony at the PCNA Annual Cardiovascular Nursing Symposium with a plaque. The winner will receive complimentary symposium registration, air or auto travel expenses to attend the symposium, and 3-night hotel stay to attend the meeting.
Eligibility Criteria
May self-nominate or be nominated by someone else.
Be a current member of PCNA.
Attend the PCNA Annual Cardiovascular Nursing Symposium to receive the award in person.
If selected, will be asked to write a 500-word article on your experiences in advocacy for PCNA's email newsletter and social media.
Evaluation Criteria
Participation in advocacy activities may include but is not limited to:
Membership on the PCNA Advocacy Committee or the advocacy committee of another health-related or professional organization.
Responding to Action Alerts via PCNA Advocacy.
Completing at least 3 offline actions. Examples include: calling your state legislators, meeting with congressional members, submitting written testimony, submitting a letter to the editor to your local media, and recruiting other PCNA members to participate in PCNA advocacy activities.
Attending state or federal Lobby Days.
Encouraging others to support CVD prevention-related or professional issues (e.g., share on social media).
How to Apply
Complete all questions in the award nomination form.
Submit two letters of support from health professional colleagues supporting the candidate's activities or achievements in advocacy.
Provide a current curriculum vitae.
Nomination Deadline
Submissions open July 1. All applications and supporting letters must be received by the PCNA National office on or before December 3.
Previous Winners
2023 – Lynne T. Braun PhD, CNP, FAHA, FPCNA, FNLA, FAANP, FAAN
2022 – Lauren Underwood, MNS, MPH, RN (Honorary)
2021 – Kim St. Clair Seals, ARNP-BC, AACC, FPCNA
2019 – Emily Jones BSN, PhD, Boston, MA
2018 – Karen Larimer, PhD, ACNP-BC, FAHA, Chicago, IL
2017 – Maria Teresa Lira Correa, RN, CVNS, FPCNA, Santiago, Chile
2016 – Alethea Hill, PhD, ANCP-BC, ANP-BC, Mobile, AL
For questions, please contact Katy Walter at 608-442-3442 or via email.