Hypertrophic Cardiomyopathy Patient Tools
The Preventive Cardiovascular Nurses Association has developed this series of Hypertrophic Cardiomyopathy patient tools and handouts for nurses and health care providers to use with patients. PCNA also has Hypertrophic Cardiomyopathy provider tools and continuing education courses for providers to learn more about this most common form of inherited heart disease.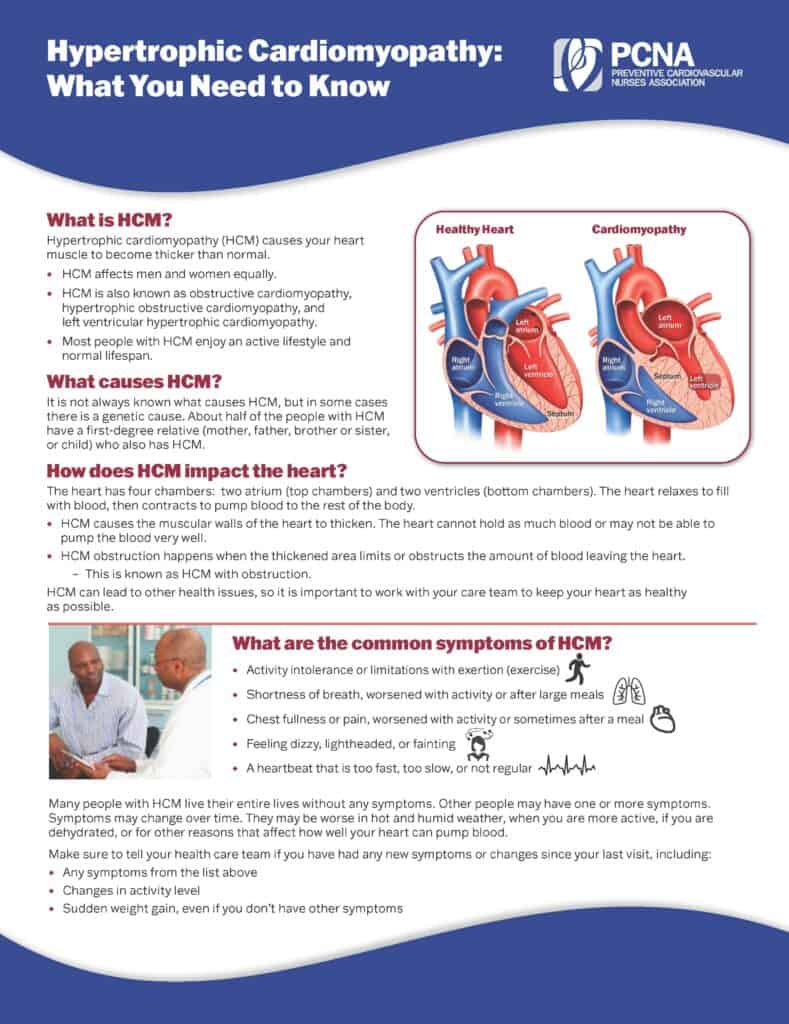 Hypertrophic Cardiomyopathy: What You Need to Know
Patient Handout
This hypertrophic cardiomyopathy patient tool will assist health care providers, their patients and families understand hypertrophic cardiomyopathy (HCM) including symptoms and treatment.
This tool includes:
Definition and causes of HCM
How HCM affects the heart
Common symptoms
Diagnostic tests
Management and treatment
How HCM may affect your family
Free to download (login required)
Supported by Bristol-Myers Squibb.
Hypertrophic Cardiomyopathy Video: What every patient should know
Hypertrophic Cardiomyopathy (HCM) is the most common genetic heart disease in the United States,2 with 1 in 500 (0.2%) diagnosed with the condition worldwide.  Up to 95% of people with HCM have not been diagnosed and do not know they have it.
This video includes:
Description of HCM
Signs and Symptoms to look for
Reasons to talk to your doctor
Released June 2022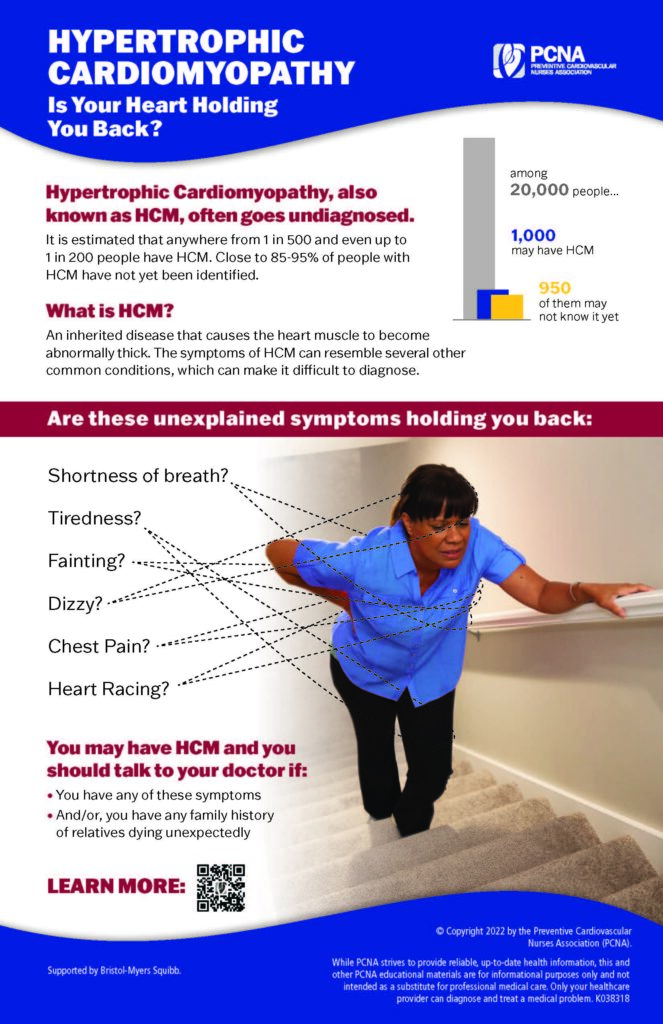 Hypertrophic Cardiomyopathy: Is Your Heart Holding You Back?
Poster
This tool will prompt patients, families, and caregivers to learn more about HCM (e.g., signs and symptoms), engage in conversation with their provider about HCM, and to help guide the clinical conversation about HCM.
The poster may have many utilizations and is recommended to be posted in the exam room in view of patients and caregivers. Also included is a QR Code linked to a short video on HCM.
This tool includes:
Prevalence of HCM
What is HCM
Signs and Symptoms
Next Steps
Link to video to learn more
Free to download (login required)
$0 members/$25 non-members
10 posters (11" by 17")  per order
Supported by Bristol-Myers Squibb.