Northeast Indiana Fall Chapter Program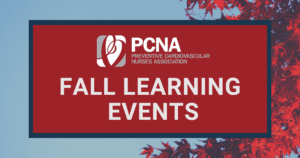 Join us for a complimentary educational event this fall, where you can network with colleagues, earn 2.0 CE contact hours and learn more about PCNA. Hosted by the Northeast Indiana Chapter.
PCNA members and non-members are welcome to register and attend. Please share this with colleagues and friends.
Agenda
5:30 pm Registration & Welcome
5:45 pm Ounce of Prevention is Worth a Pound of Cure served with Dinner
6:45 pm AAA, ESLG, TEVARs-OH My: The Facts About Aneurysms and Dissections
7:45 pm Wrap Up
Presentation Topics
Ounce of Prevention is Worth a Pound of Cure (1.0 CE)
Learning Objectives
AAA, ESLG, TEVARs-OH My: The Facts About Aneurysms and Dissections (0.5 CE)
Learning Objectives