6 Empowering Communications Tips for Nurses

Learn How to Make Your Voice Heard at Work with these Helpful Hints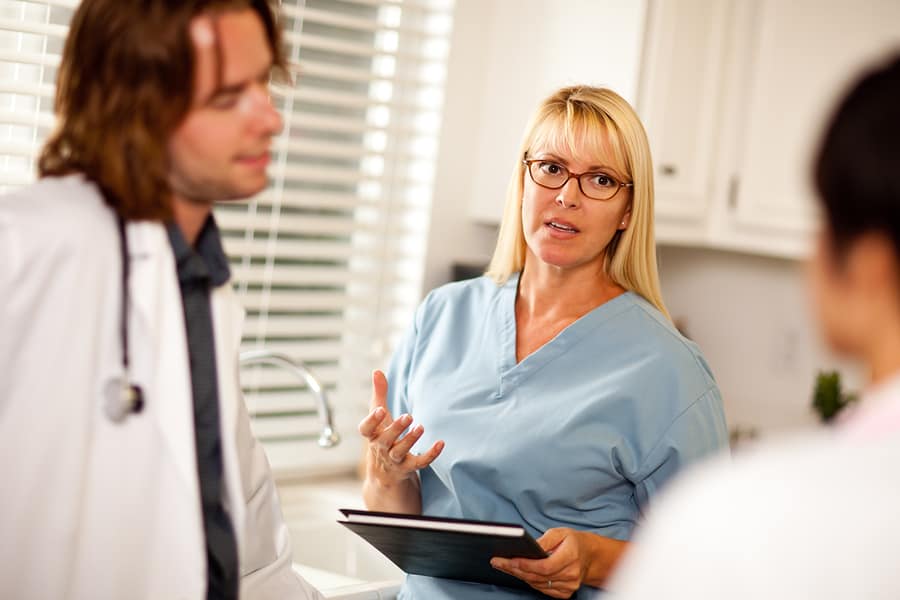 When working in a highly collaborative and busy clinic or hospital setting, knowing how to speak your mind and communicate effectively is critical for success. Strong communication not only helps you advance your career, but it also helps ensure your patients get the best care possible. If you're looking for new ways to make your voice heard at work, consider using these six communication tips for nurses:
Come prepared
Think first
Be concise
Speak with conviction
Practice saying no
Stay confiden
Keep reading to learn more about each of these helpful communication tips below.
1. Come Prepared
When you feel prepared for an administrative meeting or patient briefing, you're likely to be more comfortable contributing to the discussion. First, plan out your ideas and contributions beforehand. Look at your point from many different perspectives and anticipate how you will respond to possible questions or comments from doctors and other colleagues. Preparation can help boost your confidence and assuredness about your ideas so that you can communicate as clearly and effectively as possible.
2. Think First
In high-stress situations and busy days where you're juggling patient needs, remember that you don't have to respond immediately. Instead, take a deep breath and think before you speak. Avoiding a rushed answer when you are unsure and saying something like, "I'll look into that and get back to you" can reduce the pressure on you and prevent the chance of delivering incorrect information if you're not ready to respond.
3. Be Concise
When you have an idea to share, be concise to help make your voice resonate with your team. Start with your main point and expand on supporting details to validate your point later – and only if needed. A longer explanation may cause your fellow nurses, doctors, and other staff to tune out if they don't have the time or mental focus to follow along.
4. Speak with Conviction
Another one of our communication tips for nurses is to speak with conviction. Avoid using passive words like "I think" or "I believe" that could downplay your thoughts and experience. You can also try to limit stuttering words like "um" that may detract from your message. Remember that your unique perspective matters and infusing conviction in your communication can help convey its value to others.
5. Practice Saying No
Saying no can be difficult for nurses who often want to help others whenever possible. However, if you are too busy or unable to offer your assistance, it's better to assertively say no than allow the request to linger. You could say something like, "I'm sorry, I can't right now, but I'd be happy to let you know if my schedule frees up. I'd be happy to get someone else to help you." It's okay to recognize your limits and speak accordingly so you can maintain your focus on delivering the best patient care possible.
One final tip on how to make your voice heard at work is to stay confident. Others can pick up on distracting insecurities in your tone, body language, and other non-verbal communication. If you struggle with talking in front of a group, try combating nerves and finding your confidence by taking a deep breath and counting to five before speaking.
Discover more communication-focused tips in our post on ways to strengthen the nurse-physician relationship here.
These six communication tips for nurses can help you feel empowered and prepared for conversations with coworkers and patients alike. For more articles for cardiovascular nurses, visit our blog today.
To learn more about joining our community of nurses leading the way in cardiovascular disease prevention and management, contact us online or call 608.250.2440.