5 Time Management Tips for Busy Nurses

Jot down these ideas for staying focused and productive on the job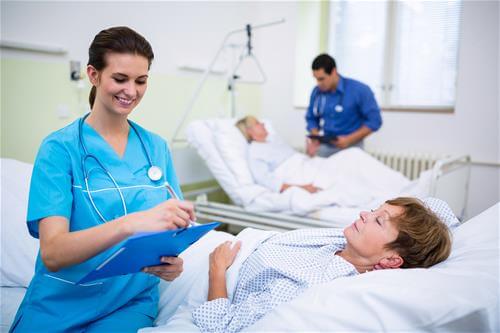 As a busy nurse, you may wonder how you can best manage your time while maximizing productivity and quality of care. We've created this handy list of time management tips for busy nurses to help you do just that. Here is how you can boost your productivity while maintaining focus and stamina throughout your shift:
Turn off your phone
Make a to-do list
Say no
Delegate
Stay positive
Let's take a closer look at how you can implement each of these time management tips for nurses into your daily life.
1. Turn off your phone
Distractions from the buzzing and dinging of your personal cell phone can throw your day off track. To make the most of your time on the job, eliminate these interruptions by turning off your phone or silencing your notifications. During your lunch break or at the end of the day, designate a few minutes to check for any phone calls, text messages, and emails that require your attention and leave the rest for when you have more time. Let your relatives, daycare providers, and other important people in your life know where they can call you in an emergency.
Check out some of the latest ways you can reduce interruptions and manage screen time on your Android or iPhone.
2. Make a to-do list
Starting your day with a strategic to-do list can help you complete each of your tasks more efficiently. While your most important patient care tasks will remain first on your list, work to prioritize other tasks logistically. For instance, if you have several tasks to complete at the computer, plan to do them all at once. Whether you keep your to-do list in a notebook or use a time management app for nurses like NurseMind, clearly outlined tasks can make for a more productive workday.
3. Say no
Another time management tip for busy nurses it to learn when to say no. While helping and caregiving may be in your nature, it doesn't mean you have to drop everything when someone asks for assistance in non-emergency cases. Whether it's a request from a patient or colleague, think about it before you respond. Will saying yes derail your morning or afternoon? Will it distract or prevent you from completing a critical task? Are you simply too busy to take it on right now? If so, gently decline and let them know that you're happy to help as soon as you finish more urgent tasks. Chances are, they'll understand your dilemma and be willing to wait until your time is freed up.
4. Delegate
On days where you're feeling especially overwhelmed, consider delegating tasks to others, provided you meet state and facility delegation guidelines. Delegating tasks can be a stress-relieving time management tip for nurses – and everyone – because it alleviates a great deal of pressure and enhances productivity, while also giving your colleagues the opportunity to learn or hone additional skills.
Use this decision tree for nurses to help you delegate without doubts.
5. 
Stay positive
Nothing can hinder productivity like negativity. When you're stressed, overwhelmed, or frustrated, find a moment or two in your day to blow off steam. Joke with a colleague, do a summersault, sing, or meditate – anything that helps you refocus and connect with your positive vibes. Nursing can be an intense career but infusing your day with a few minutes of reprieve or comic relief can help make the rest of your day more productive.
Get more done and put a spring in your step with these time management tips for busy nurses. Check out our blog for more useful tips and tricks for your well-being and career.
To learn how you can join our community of nurses leading the way in cardiovascular disease prevention and management, contact us online or call 608.250.2440 today.