Walking to Prevent Cardiovascular Disease

The Power of Walking: A Simple Step Towards Preventing Cardiovascular Disease
In the quest for a healthy heart, it's easy to overlook the power of one of the simplest and most accessible forms of physical activity: walking. There is tremendous potential for walking to prevent cardiovascular disease (CVD), which remains a leading cause of death worldwide.1,2 Research highlights the benefits of walking in reducing the risk of heart-related ailments.3–5 By incorporating this low-impact activity into our daily routine, we can take significant steps towards maintaining a healthy heart and preventing the onset of CVD.
The Impact of Cardiovascular Disease
Cardiovascular disease, encompassing conditions such as heart attacks, strokes, and coronary artery disease, is not only a national concern but also a global health concern. According to the World Health Organization,6 CVD is the leading cause of death worldwide. The prevalence of CVD can be attributed to various modifiable and non-modifiable risk factors.
Examples of modifiable risk factors include:7
High blood pressure
Elevated cholesterol levels
Obesity
Smoking
Sedentary lifestyle
Examples of non-modifiable risk factors include:8
Family history of CVD
Age
Gender
Ethnicity
Fortunately, there are health promotion behaviors we can enforce, (e.g., engaging in regular physical activity through walking) to mitigate these risk factors and significantly reduce the incidence of CVD.
The Cardiovascular Benefits of Walking
Brisk walking, a typically moderate-intensity form of physical activity, offers numerous benefits for cardiovascular health. Our heart is a muscle in which the primary function is to circulate blood throughout our body.9,10 Like any other muscle in our body, it is important to maintain the heart's strength to ensure it functions properly. Increasing our heart rate, through walking, helps to strengthen our heart muscle.11
Additionally, walking can be an effective strategy in lowering blood pressure, reducing LDL cholesterol levels, improving insulin sensitivity, and reducing or maintaining healthy weight, which are all crucial to reduce the risk of heart disease.12,13 
Murtagh et al14 carried out a systematic review and meta-analysis of randomized controlled trials to investigate the effect of walking on CVD risk variables. Walking improved various CVD risk variables, according to the study. Blood pressure, weight, body fat, and BMI are among the risk factors indicated. Lipids did not fare well in the study.
Paula et al.15 carried out a 4-week randomized controlled trial to determine how the Dietary Approaches to Stop Hypertension (DASH) diet and walking impacted patients with type 2 diabetes and uncontrolled high blood pressure. The intervention group was advised to increase their walking to at least 15-20 minutes a day, 5 days a week, and the control group maintained their usual physical activity. Additionally, the intervention group followed the DASH diet while the control group received dietary recommendations. The researchers discovered that participants in the intervention group had lower blood pressure.
Accessibility and Convenience
One of the greatest advantages of walking is its accessibility and convenience. Walking requires no special equipment or expensive gym memberships and can be done almost anywhere and at any time. A brisk walk around the neighborhood, taking the stairs instead of the elevator, or incorporating short walks during work breaks, all provide positive impacts.
With walking, there are no limitations in terms of age or fitness level, making it an ideal choice for individuals of all backgrounds and abilities. In elementary children, a 5-week walking program contributed to a decrease in being sedentary and a decrease in disruptive class behavior.16 A secondary data analysis that focused on older adults and the impact of walking on mental health and health perception, showed higher health perceptions and mental health in older adults who participated in moderate-intensity leisure walking compared with light-intensity leisure walking.17
Tips for Creating a Walking Routine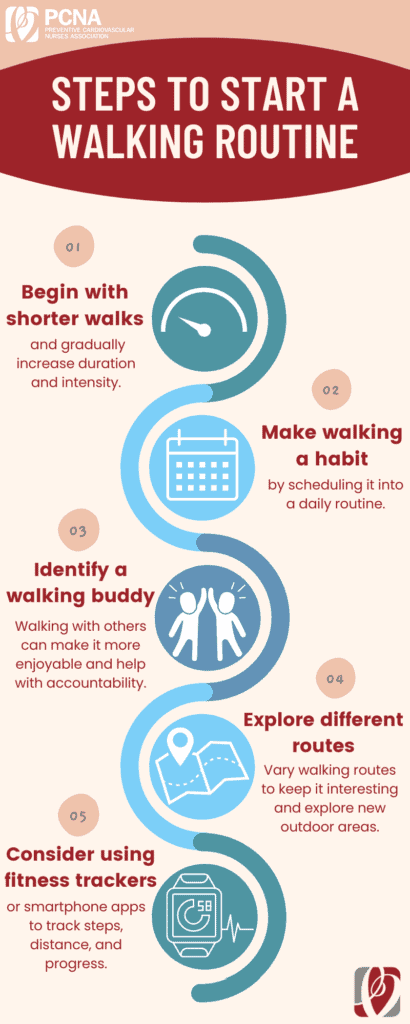 With any form of physical activity, consistency is important to benefit from an individual's chosen form of physical activity. According to the Physical Activity Guidelines for Americans,18 it is recommended that adults do at least 150 minutes a week of moderate-intensity physical activity. Children, starting at age 6, and adolescents, should do at least 60 minutes daily, and older adults or adults with chronic health conditions or disabilities should do at least 150 minutes a week of moderate-intensity physical activity, if able.
There are several strategies an individual can utilize to start a walking routine and build their routine to meet the recommended amount of physical activity.
Clinical Implications for Nurses
Nurses of varying professional roles are equipped to provide the foundation for engagement in physical activity. Nurse practitioners have the capacity to prescribe walking as part of a patient's treatment regimen. The nurse practitioner must consider, however, the walking environment of the patient as their environment can impact their engagement in physical activity. Nurses are equipped to educate patients and reinforce the importance of physical activity. There is also an opportunity for collaboration among nurse researchers, other healthcare professionals, community stakeholders, and community members to conduct research on walking interventions to prevent CVD.
Related Resources
Heart Healthy Toolbox – Lifestyle and behavior change tools, including motivational interviewing and exercise tools
References