Central Valley California Fall Chapter Program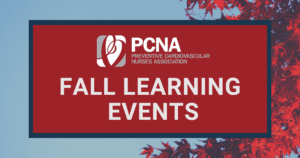 Join us for a complimentary educational event this fall, where you can network with colleagues, earn 3.0 CE contact hours and learn more about PCNA. Hosted by the Central Valley California Chapter.
PCNA members and non-members are welcome to register and attend. Please share this with colleagues and friends.
Agenda
9:00 Networking & Check-In
9:30 Preventive Cardiology in Women (1 CE)
10:45 Presentation by Janssen (non-CE) with Brunch
12:00 Using Lifestyle Medicine in the Virtual World to Improve Our Patients' Health (1 CE)
1:15 Pediatric Cardiology – More than Congenital Surgical Intervention (1 CE)
2:15 Wrap-up
Presentation Topics
Preventive Cardiology in Women (1.0 CE contact hours)
Learning Objectives
Discuss 5 evidence based guidelines for heart disease prevention
Cite considerations of gender in the guidelines and focus on women
Perform a self-assessment of the material covered
Using Lifestyle Medicine in the Virtual World to Improve Our Patients' Health (1.0 CE contact hours)
Learning Objectives
Define lifestyle medicine and supporting scientific evidence
Discuss considerations of practicing LM
Outline different models of practicing LM
Discuss business considerations
Pediatric Cardiology – More than Congenital Surgical Intervention (1.0 CE contact hours)
Learning Objectives
List three indications for pediatric cardiology
Cite considerations in selection of the surgical intervention vs lifestyle modifications
List a summary of the Healthy Hearts Program