Maryland Fall Chapter Program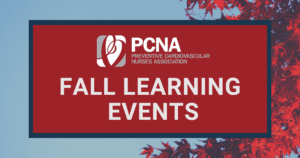 Join us for a complimentary educational event this fall, where you can network with colleagues, earn 1.0 CE contact hours and learn more about PCNA. Hosted by the Maryland Chapter.
PCNA members and non-members are welcome to register and attend. Please share this with colleagues and friends.
Agenda
4:30 pm: Sign in and Welcome
5:00 pm: Dinner with Presentation by Kiniksa Pharmaceuticals (non-CE)
6:00 pm: Cardiac-related Post-Acute Sequelae of COVID-19 (PASC): Diagnoses and Care Access Challenges (1 CE)
7:00 pm: Closing
Presentation Topics
Cardiac-related Post-Acute Sequelae of COVID-19 (PASC): Diagnoses and Care Access Challenges (1.0 CE contact hours)
Learning Objectives
Discuss the current diagnostic criteria and guidance for PASC
Indicate some underlying mechanisms and clinical presentation of PASC
Discuss frameworks for evaluation and management of Cardiac PASC
Outline care access gaps for PASC