Areas Served
The Kansas City Chapter of Preventive Cardiovascular Nursing Association serves Kansas City, MO and the surrounding areas.
Volunteer
Contact Kim to learn more about getting involved with the Kansas City Chapter.
Chapter Background
Get to Know Your Chapter Leadership Team!
Welcome to the Kansas City Chapter, also known as the Heart of America Chapter. This chapter started in 2018. We look to encourage membership from Registered Nurses, Nurse Practitioners, Clinics, Cardiac Rehabilitation, Clinic Informatics, Educators, LPNs, Cardiac Wellness, Respiratory Therapists, Nuclear Medicine, and Echocardiology staff. Membership is open to all nurses and health care professionals who manage or have an interest in cardiovascular disease risk.
The Kansas City Chapter supports evidence-based preventative cardiology education for clinicians and patients with the goal of optimal cardiovascular health. We want to offer opportunities for education and networking within our region. Our current goals are to increase membership and encourage attendance to chapter activities. Both members and nonmembers are welcome to attend chapter meetings.
Kim Campbell's background is in ICU and CVICU nursing which led to 20+ years assisting in cardiothoracic and vascular surgery as well as peripheral vascular intervention.  She is currently a nurse practitioner with Saint Luke's Cardiovascular Consultants, primarily involved in Cardiac Cath lab/EP lab patient management, procedures such as insertion and explanation of loop recorders, general cardiology hospital and clinic patient care, and have the incredible opportunity to be involved in ongoing development of SLCC and Saint Lukes hospital peripheral vascular intervention, research and preventative care programs.
City of Leawood Safety and Health Fair 2023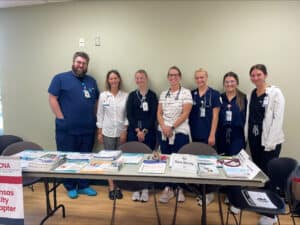 Kansas City Spring Learning Program 2023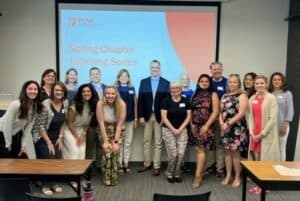 Kansas City Spring Learning Program 2022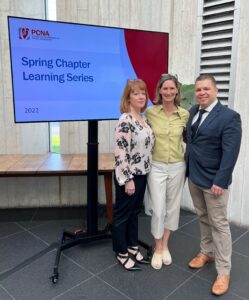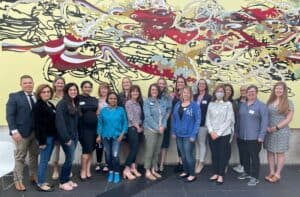 Chapter Leader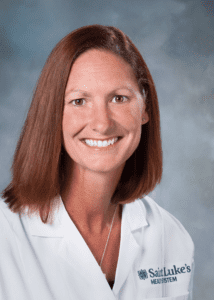 Kim Campbell, MSN, CRNFA, CVRN-BC, ANP-BC, AACC, FSVM