William Haskell, PhD to speak at the 23rd Annual Cardiovascular Nursing Symposium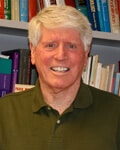 Dr. Haskell's session at the 23rd Annual PCNA Symposium, Physical Activity: The Magic Bullet! will serve as a call to action for nurses to make physical activity assessment and education a routine part of patient care. Dr. Haskell is Professor of Medicine (active emeritus) in the Stanford Prevention Research Center and the Division of Cardiovascular Medicine at Stanford University School of Medicine. He has been a member of the Stanford Medical School faculty for 45 years with primary interests in applied and clinical research in preventive cardiology, cardiac rehabilitation, and the role of physical activity in successful aging.
Over the years, Dr. Haskell has been the principal investigator for several important clinical trials investigating the role of physical activity in the development of atherosclerotic vascular disease and diabetes. One of these trials, the Stanford Coronary Risk Intervention Project (SCRIP), was key in demonstrating the important role that nurses play in case management of patients to reduce coronary artery disease risk factors, decrease disease progression and lower CHD mortality. Dr. Haskell is a strong advocate of the PCNA's mission to promote nurses as leaders in cardiovascular disease prevention and management. He has been a long-time member of the PCNA Scientific Advisory Committee.
Dr. Haskell has been recognized as an international leader in the science of physical activity, cardiorespiratory fitness and health and the promotion of physical activity throughout the lifespan to prevent and manage chronic diseases and promote healthy aging. He was the chair of the Physical Activity Guidelines Advisory Committee for the US Department of Health and Human Services, documenting the scientific basis for the 2008 Physical Activity Guidelines for Americans. He also was a scientific advisor to the World Health Organization for the development of the WHO Global Recommendations on Physical Activity for Health (2010). Re remains active as a mentor to Stanford students and junior faculty and as senior research consultant to other research organizations.
Join us in Denver to hear Dr. Haskell and many more world-renowned speakers who are sure to provide you with the latest information and tactics to re-energize your nursing practice!