Tips to Enjoy a Heart-Healthy Holiday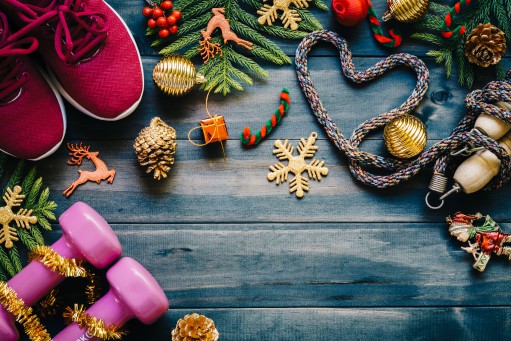 Heart Health Before, During and After the Party
During the holidays, it is challenging for families to be heart healthy. Holiday celebrations may also last for several days or weeks, so vigilance is required across the holiday season.
Some irony is built into holidays. For example, while experts say to plan, plan, plan for the holidays, holiday parties and celebrations are often planned by others, and food may be prepared and brought by others. Another example is that holidays are a time to eat traditional dishes—frequently with great quantities of food—and time to sit and relax in a way that occurs no other time of the year. Experts agree that this scenario is just the opposite of heart-healthy.
In fact, researchers have found that weight gain during the holidays in adults typically ranges from about 1 to 3 pounds. This weight is not necessarily lost after the holidays. A new study6 found that a strategy of self-weighing with a graphic readout of weight change over time (n=56), was successful in reducing weight gain during the holidays compared to a control group (n=55).
How much control over holiday decisions does the partygoer with heart-healthy intentions have? Several websites1-5 offer a variety of suggestions for before, during, and after parties.
Before the party
Have foods to nibble on when cooking1 to avoid the tendency for extra tastings
Bake healthier for parties, with monounsaturated fats such as canola oil2
Never go to a party hungry3
Learn about portion size, as it is a learned skill4
During the party
Don't indulge in high calorie and fried appetizers1
Be in charge of your party choices3
Control portion size4
Don't feel you have to sample everything on the table1
Say no politely to seconds3
Bring homemade foods like those with fruits, vegetables, and lean protein and eat those foods4
If bringing processed foods to a party, note they often contain ingredients like lard, bacon fat, or palm oil, things that you might not normally buy or consume4
Eat the foods with little or no breaded coatings or cream sauce4
If you chose to drink alcohol, do so in moderation and be cognizant of the high-calorie drinks (eggnog) and sugar-sweetened beverages
Allow yourself the occasional treat4
Be the life of the party: focus on socializing, not food2,3
Make exercise part of the fun2
After the party
Enjoy leftovers in moderation2
Take time to relax and get back on track for heart health5
Cardiovascular nurses can share these ideas with patients as well as use them for their own heart health and wellness during the holiday season. Partygoers can use and tailor these strategies to their own specific holiday party situations. So, enjoy and Happy Holidays!
Related Tool
The Heart Healthy Toolbox is a set of patient and provider tools that cover eating, exercise and other lifestyle challenges. This is a free downloadable resource.
References