The Path to Reversing Worsening Hypertension Control in the US

Calling All Nurses: The Path to Reversing Worsening Hypertension Control in the US
A recent study points to a trend of worsening hypertension control in the United States. What is behind this trend, and what can nurses do to help reverse it?
Hypertension or high blood pressure (BP) is a global health problem, particularly in the United States.1 Uncontrolled BP significantly increases the risk of cardiovascular disease, stroke, and kidney disease.2 In the US, about 108 million adults have hypertension defined as 130/80 mm Hg.3 This means that one in two adults have hypertension. Moreover, only 24% of adults diagnosed with hypertension have controlled BP defined as < 130/80 mm Hg.3 There is robust evidence on effective strategies to manage high blood pressure, including affordable antihypertensive medications, lifestyle modification, such as engaging in sufficient physical activity, consuming a heart-healthy diet, maintaining a healthy weight and limiting alcohol intake. 4,5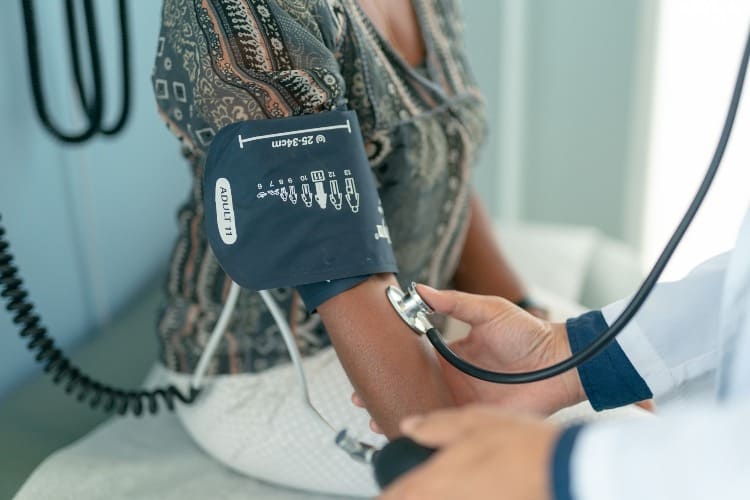 A recent article published by Muntner and colleagues6 has highlighted an alarming trend of worsening blood pressure control among adults who participated in the National Health and Nutrition Examination Survey. The good news is that between 1999-2000 blood pressure control increased from 31.8% to 48.5% in 2007-2008. The prevalence remained stable at 53.8% in 2013-2014. However, in 2017-2018, blood pressure control significantly declined to 43.7%. The reasons for the decline in BP control rates are unclear. However, it may be attributed to worsening obesity rates7 or changes in health care access in recent years. 8
Prioritizing Hypertension Control and Reducing Disparities in Blood Pressure Control
Regardless of the reasons for the decline in blood pressure control, reversing this trend should be a national priority for all, and especially nurses. The National Hypertension Control Roundtable has established an ambitious goal of achieving at least 80% control by 2025 and reducing disparities in hypertension outcomes. The Target: BP program also recognizes providers and health systems who achieve at least 70% blood pressure control rates. The recently published Surgeon General's Call to Action to Control Hypertension9 has established a national agenda for tackling this urgent public health and clinical problem.
In Muntner et al.'s paper6, disparities in high blood pressure control were also highlighted. For instance, non-Hispanic Black adults were less likely to have controlled blood pressure than non-Hispanic Whites. Hypertension disparities among black adults are also well established.10 Health care access in the form of insurance and access to a usual health care facility was also a key determinant of high blood pressure control. In their analysis, adults who did not have health insurance were less likely to have controlled blood pressure than those with private insurance or Medicare or government insurance other than Medicaid or Medicare. Also, adults who had not had a health care visit in the past year were less likely to have controlled blood pressure than those who did. These disparities are unnatural, unjust, and must be remedied to achieve blood pressure control for all Americans.
What Can Nurses Do to Reverse this Trend?
There are almost four million nurses in the US11 who can be engaged in the path to improve hypertension control nationally and reduce disparities in hypertension outcomes. With each patient encounter, nurses have the opportunity to initiate a conversation about preventing high blood pressure among those who have normal blood pressure and managing high blood pressure among those who have elevated, Stage 1 or Stage 2 hypertension.
Nurses have a long history of contributing to efforts to improve hypertension control globally. With the current worsening trend of hypertension control, nurses must renew and strengthen their efforts to partner with patients to achieve blood pressure control. The Figure below illustrates how nurses can contribute to national efforts to reverse worsening blood pressure control in the US. These strategies were selected based on the strength of evidence of these approaches.
How Nurses Can Contribute to National Efforts to Improve Hypertension Control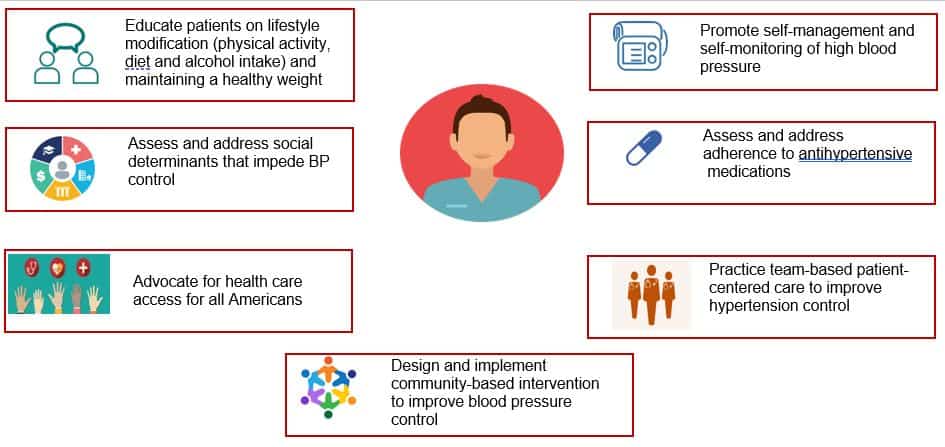 Educate patients on lifestyle modification (physical activity, diet, and alcohol intake) and maintaining a healthy weight. (See PCNA's Heart Healthy Toolbox for resources).
Assess and address social determinants that impede BP control.
Advocate for health care access for all Americans.
Design and represent community-based intervention to improve blood pressure control.
Promote self-management and self-monitoring of high blood pressure. (Check out our hypertension patient tools, including measuring tape for a blood pressure cuff)
Assess and address adherence to antihypertensive medications.
Practice team-based patient-centered care to improve hypertension control.
References
1. Ostchega Y, Fryar CD, Nwankwo T, Nguyen DT. Hypertension prevalence among adults aged 18 and over: United states, 2017–2018. https://www.cdc.gov/nchs/data/databriefs/db364-h.pdf. Updated 2020.
2. Virani SS, Alonso A, Benjamin EJ, et al. Heart disease and stroke statistics-2020 update: A report from the American Heart Association. Circulation. 2020;141(9):e139-e596. doi: 10.1161/CIR.0000000000000757 [doi].
3. Centers for Disease Control and Prevention (CDC). Hypertension cascade: Hypertension prevalence, treatment and control estimates among US adults aged 18 years and older applying the criteria from the American college of cardiology and American Heart Association's 2017 hypertension Guideline—NHANES 2013–2016. US Department of Health and Human Services. 2019. https://millionhearts.hhs.gov/data-reports/hypertension-prevalence.html.
4. Artinian NT, Fletcher GF, Mozaffarian D, et al. Interventions to promote physical activity and dietary lifestyle changes for cardiovascular risk factor reduction in adults: A scientific statement from the American Heart Association. Circulation. 2010;122(4):406-441. doi: 10.1161/CIR.0b013e3181e8edf1 [doi].
5. Pearson TA, Palaniappan LP, Artinian NT, et al. American Heart Association guide for improving cardiovascular health at the community level, 2013 update: A scientific statement for public health practitioners, healthcare providers, and health policy makers. Circulation. 2013;127(16):1730-1753. doi: 10.1161/CIR.0b013e31828f8a94 [doi].
6. Muntner P, Hardy ST, Fine LJ, et al. Trends in blood pressure control among US adults with hypertension, 1999-2000 to 2017-2018. JAMA. 2020. doi: 10.1001/jama.2020.14545 [doi].
7. Rodgers GP, Gibbons GH. Obesity and hypertension in the time of COVID-19. JAMA. 2020;324(12):1163-1165. doi: 10.1001/jama.2020.16753 [doi].
8. Fang J, Zhao G, Wang G, Ayala C, Loustalot F. Insurance status among adults with hypertension-the impact of underinsurance. J Am Heart Assoc. 2016;5(12):10.1161/JAHA.116.004313. doi: e004313 [pii].
9. U.S. Department of Health and Human Services. The Surgeon General's Call to Action to Control Hypertension. 2020. https://www.cdc.gov/bloodpressure/docs/SG-CTA-HTN-Control-Report-508.pdf.
10. Cooper LA, Marsteller JA, Noronha GJ, et al. A multi-level system quality improvement intervention to reduce racial disparities in hypertension care and control: Study protocol. Implement Sci. 2013;8:60-5908-8-60. doi: 10.1186/1748-5908-8-60 [doi].
11. Haddad LM, Toney-Butler TJ. Nursing shortage. In: StatPearls. Treasure Island (FL): StatPearls Publishing LLC; 2019. NBK493175 [bookaccession].