Staying Fit During the Holidays: Plan to Keep Moving and Have Fun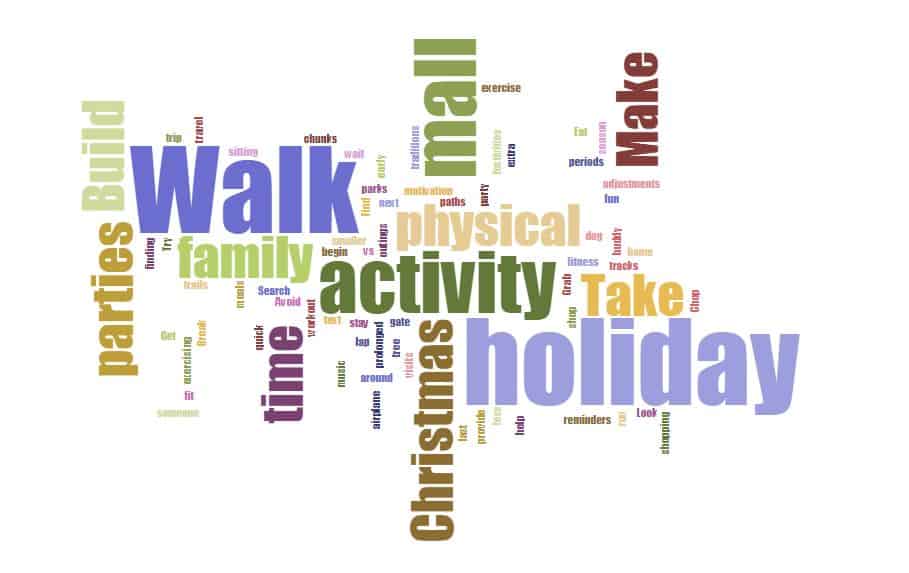 Are you looking for ways to keep fit during the holidays? Does your exercise routine seem to come to a halt when you are with family or friends and away from your usual routine during the holidays?
Several resources offer valuable tips to enhance your fitness while having a good time. 1-4 For example, Alice Henneman, MS, Registered Dietitian,2 makes suggestions from her experience and Cedric X. Brynt, Ph.D., FACSM, the chief science officer at the American Council on Exercise,1 provides ideas obtained by polling health professions. This season, consider build, make, and take.1-4
Build activities into family visits and outings
One strategy is to find trails, tracks, and parks before you travel. Another one is to look for a holiday fun run or fitness event. Here are others:
Grab a buddy
Search for holiday fitness music as a family
With the family, chop down your own Christmas tree
Build physical activity into holiday traditions
Get family or friends to text you reminders and provide motivation
Make time for physical activity
To avoid sitting for prolonged periods of time, try fitting physical activity wherever you can. Here are some tips:
Make time for a quick workout between holiday parties
Make adjustments that will help you stay fit during the season
Try exercising early before festivities begin
Eat less and spend more time exercising than last Christmas
Break physical activity up into small chunks of tim
Take a walk
Often party goers and holiday shoppers can fit in walking. What do you think of these ideas?
Walk the mall before you shop the mall
Take a walk after holiday meals
Walk home from a party
Walk the dog
Happy Holidays!
References
Bryant C. 8 secrets to staying fit during the holidays: Health professionals reveal what works for them. US News and World Report Nov. 20, 2015. Accessed from https://health.usnews.com/health-news/blogs/eat-run/2015/11/20/8-secrets-to-staying-fit-during-the-holidays
Centers for Disease and Prevention. 5 Healthy Eating Tips for the Holidays. 2017. Accessed from https://www.cdc.gov/features/diabetesmanagement/index.html
Griffith S. 3 ways to make sure you exercise during the holidays. TIME magazine. November 28, 2016. Accessed from http://time.com/ 4583238/exercise-motivation-during-holidays
University of Nebraska-Lincoln. 9 tips for staying active over the winter holidays. 2018. Accessed from https://food.unl.edu/9-tips-staying-active-over-winter-holidays