PCNA Board Member Jo-Ann Eastwood Leads Cardiovascular Patient Trial with UCLA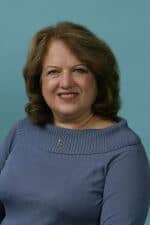 (December 29, 2014) The Preventive Cardiovascular Nurses Association (PCNA), headquartered in Madison, Wis., is proud to recognize one of its board members, Jo-Ann Eastwood, PhD, RN, CCNS, ACNP-BC, FAHA, for her outstanding achievement in the UCLA-backed clinical trial that used a smartphone app to track the eating and activity of 39 at-risk women to assist them in learning healthful diet and exercise habits.
Mobile health (m-health) apps are still in their beginning stages, however, many researchers and advocates hope they will soon contribute to major advances in the treatment of diabetes, heart disease and other chronic conditions. Eastwood, a nurse practitioner and associate professor at UCLA's School of Nursing and PCNA board member, gave each participant a custom-configured phone loaded with an app developed at UCLA that interacted with the women, sending daily and weekly questions such as "Did you eat five to six servings of fruit today?" The phones also came with built-in accelerometers to track physical activity. Eastwood also taught the women about healthy-heart lifestyles and stress reduction in four diet-and-exercise classes before handing out the Android phones.
"I was tired of seeing women come in at 55 years old and they've already had a heart attack," says Eastwood. "Their illness hadn't been picked up early enough. That's what drew me to this population: Where could I do the most good?"
Eastwood's work with this group is a prime example of the goals and projects in which PCNA strives to participate. Her use of cutting-edge technology is just one more example of a PCNA board member making a positive impact in the cardiovascular patient community.
PCNA has established itself as the premier organization of nursing professionals dedicated to the prevention of cardiac and other vascular diseases throughout the lifespan. PCNA's mission includes developing and promoting nurses as leaders in this field and supporting comprehensive risk reduction strategies for individuals and populations across the lifespan. PCNA takes pride in supporting leadership, advocacy, lifelong learning and empowerment of the nursing community. To learn more about PCNA and their continuing education, free nursing tools, Annual Symposium and more, visit PCNA.net or join them on facebook.com/heartnurses or twitter @heartnurses. ###