PCNA at the European Society of Cardiology's Congress 2015

Why would our board and staff trek all the way to London to attend the European Society of Cardiology's Congress 2015? The short answer is "to elevate the role of nurses".

The European Society of Cardiology (ESC) represents more than 85,000 cardiovascular professionals, principally from across Europe and the Mediterranean basin, but also from the rest of the world. Their annual ESC Congress is the world's largest and most influential cardiovascular event contributing to global awareness of the latest clinical trials and breakthrough discoveries. The Congress draws 27,000 healthcare professionals from more than 140 countries and features five days of scientific sessions, 150 CV topics, and 500 expert sessions.
Given those impressive numbers, PCNA Board Members were honored to have been invited to present at the meeting. This opportunity gives us a chance to highlight topics that demonstrate the key role of nursing and share the message that nurses can and should be leaders in CVD disease prevention and management. Barbara Fletcher spoke on "Cardiovascular Prevention at Every Level", while Kathy Berra chaired a panel on "Mobile Health and Technology: The Future Technical Environment for Prevention?" and presented on "Crossing Boundaries: Nurse Led Services Across Healthcare Sectors".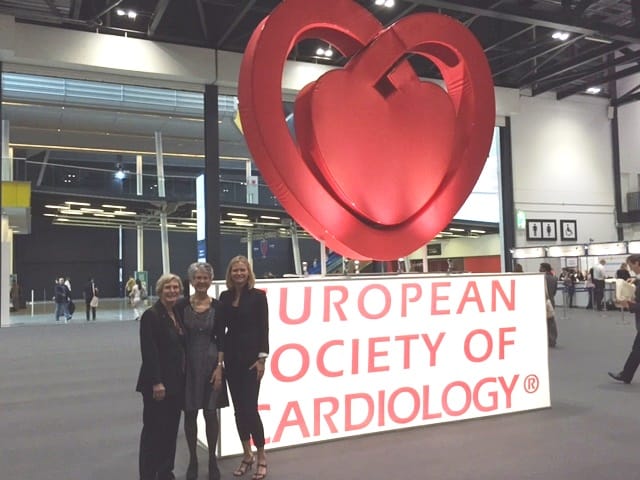 PCNA Board and Staff at ESC Congress 2015 – Barbara Fletcher, Kathy Berra, Sue Koob and Sandra Dunbar (not pictured).

While in London, PCNA staff and board met with leaders from other professional organizations, including the ESC Council on Cardiovascular Nursing, the World Heart Federation and the American Heart Association. ESC Congress acts as a natural convener of these groups, allowing for productive discussions about how to promote cardiovascular and stroke nursing globally.
Interested in learning more about PCNA's work on the global scale? Visit our Global Prevention page and read our recent editorial in the Journal of the American College of Cardiology.