New PCNA Diabetes Tool Available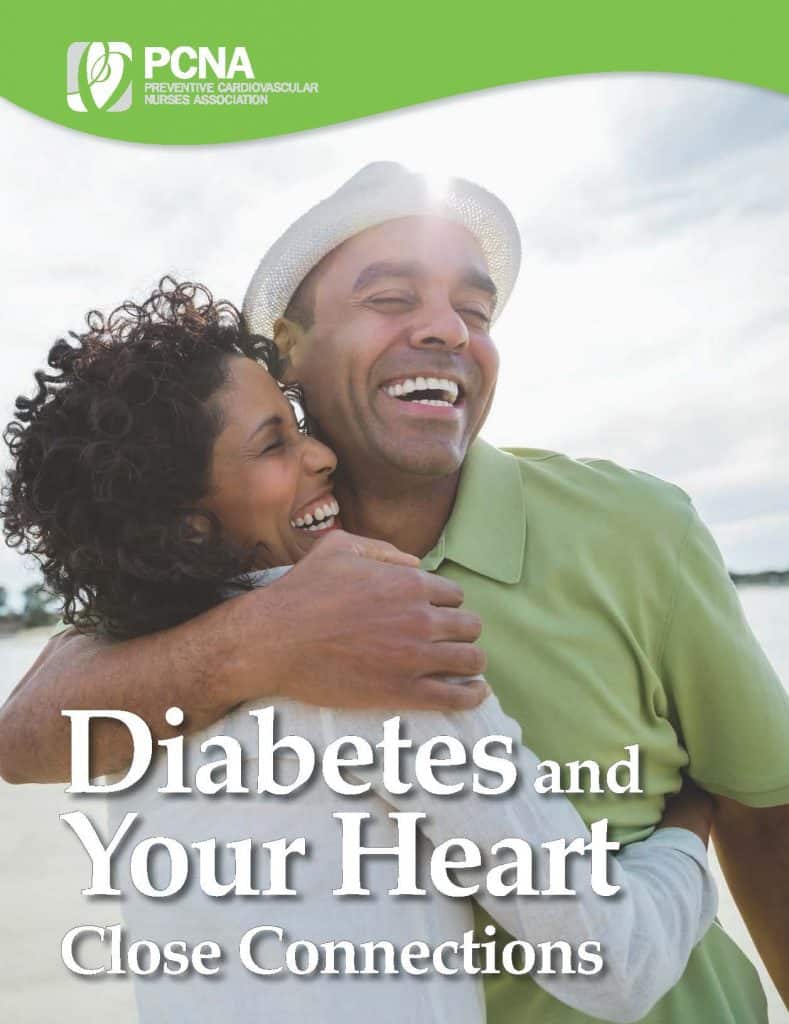 The Diabetes and CVD Connection
Approximately 30.3 million people of all ages, or 9.4% of the U.S. population, had diabetes in 2015, the majority being type 2 diabetes. The percentage of adults with diabetes increased with age, reaching a high of 25.2% among those aged 65 years or older.¹ Atherosclerotic cardiovascular disease (CVD) is the leading cause of morbidity and mortality for individuals with diabetes.² Health care providers are well aware of this risk and understand the biggest fear of people with diabetes is developing complications resulting in blindness, amputation, and dialysis.
Acknowledging this, the Preventive Cardiovascular Nurses Association (PCNA) and the American Diabetes Association (ADA) collaborated to create a patient education resource that provides information about the connection between diabetes and cardiovascular disease. A major emphasis of this important resource is empowering patients to play a major role in their care, manage their diabetes and lower their risk factors for CVD.
Patient Booklet on Diabetes
Diabetes and Your Heart: Close Connections is a multimedia tool to address different learning styles. For those who learn best from reading, there is a printed booklet written at an 8th grade level, with an easily readable font, pictures, and ample white space.  For those with visual impairment or who are auditory learners, an online version is narrated, and keywords can be clicked on for further definition.  To maximize patient engagement, there are "knowledge check-ins" and additional tools to support action, including SMART GOAL sheets, Blood Glucose Monitoring Logs, and Exercise Trackers.
The simple message of the booklet is: Your everyday choices can reduce your risks. Included are tips for reaching goals, establishing a SMART Goal, and importantly, problem-solving barriers to achieving the goal. Lifestyle is a powerful "insulin sensitizer" and guidelines are incorporated into the tool that focus on how to start staying active, eating healthy (what, when and how much to eat), monitoring to reduce short-term and long-term complications, taking medicines, problem-solving, reducing risks to improve health, and taking care of yourself with healthy coping.
In the context of shared decision-making for best outcomes, patients ultimately choose their optimal plan. The plan incorporates reviewing clinical targets, identifying an area on which the patient desires to focus, and having simple, clear education to support everyday decisions. Diabetes and Your Heart: Close Connections provides a great starting point in a patient's path to reaching their goals. The adjunct tools and logs can be used independently and with a health care provider in helping people with diabetes stay healthy.
References
Centers for Disease Control and Prevention. National Diabetes Statistics Report, 2017. Atlanta, GA: Centers for Disease Control and Prevention, U.S. Dept of Health and Human Services; 2017.
American Diabetes Association, Diabetes Care 2019 Jan; 42 (Supplement 1): S103-S123. https://doi.org/10.2337/dc19-S010
Dickinson JK, Guzman SJ, Maryniuk MD, O'Brian CA, Kadohiro JK, Jackson RA, D'Hondt N, Montgomery B, Close KL, Funnell MM The Use of Language in Diabetes Care and Education. Diabetes Educ. 2017 Dec;43(6):551-564.