Health Equity Affects Us All

Health equity affects us all, and successful approaches to addressing it include building trust between healthcare professionals and patients, recognizing and addressing barriers to care, and committing daily to improving health outcomes for all patients.
PCNA's Health Equity Summit, held Sept. 14, 2023, was produced in partnership with the Association of Black Cardiologists. The summit included presentations by health equity subject matter experts and a panel discussion addressing questions submitted by the audience. I had the pleasure of introducing this 3rd annual event, which was moderated by Yvonne Commodore Mensah, PhD, MHS, RN, FAAN, FAHA, FPCNA, and Natalie Pierson, MSN, RN, NC-BC, FHFSA. Session recordings are available online.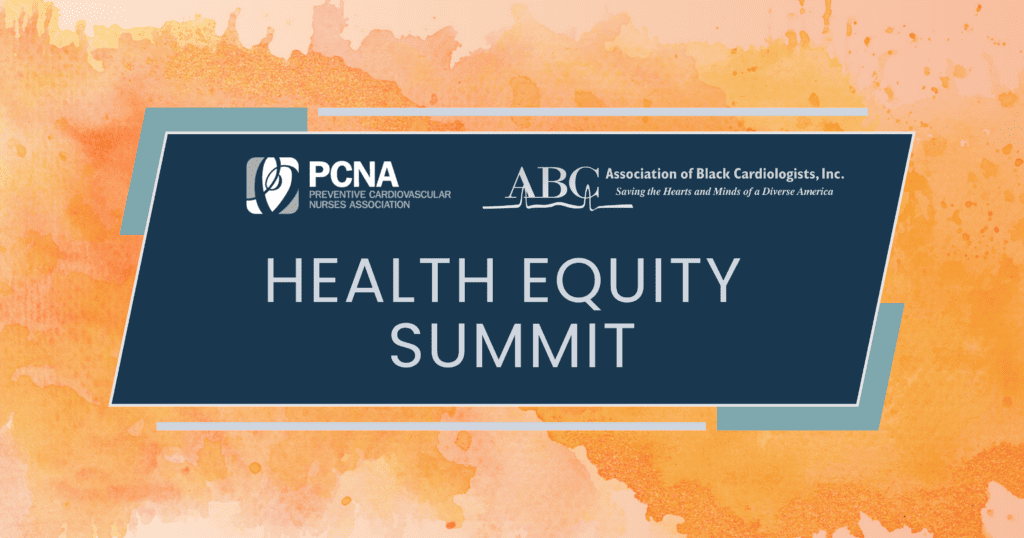 Insurance, Prescription Costs, and Barriers to Access
With prescription prices increasing, understanding how pricing and coverage intersect is essential to providers and patients. Rachel Schendler, LSW, shared about Understanding Reimbursement Practice Trends to Overcome Medication Access Barriers. Rachel described the different types of coverage that patients utilize for health care costs, including prescriptions, and the complexities of determining prescription drug prices. Rachel also discussed the cost-saving measures available to patients and the importance of helping them understand their options.
The Intersection of Cancer Treatment and Cardiovascular Disease Risk
Post-Cancer Cardiovascular Complications for Women was presented by Irene Frain, MSN, CRNP, focusing on cardiovascular (CV) health for breast cancer patients and survivors. Irene discussed the CV complications affecting nearly 30% of patients who receive cancer therapy. As cancer patients continue to live longer, some CV complications may not become apparent for a decade after cancer treatments are complete—underscoring the importance of awareness by all providers who manage those who have—or who have had—cancer.
Impacts of CVD on Women
As part of the session Cardiometabolic Disparities: An Avoidable Risk for Women, presenter Modele Ogunniyi, MD, MPH, FACC, utilized case studies to examine effective strategies to mitigate cardiometabolic risk across a woman's life span. Dr. Ogunniyi highlighted the impact of social determinants of health on CVD risk factors that affect women, including reproductive-related impacts. Addressing social determinants of health at all levels of health care—from individual providers to system levels—can significantly impact women's CV health and outcomes.
Access and Action for Patients with Heart Failure
Program sessions also included a presentation by Ileana Pina, MD, MPH, FAHA, FACC, FHFSA: Cardiovascular Patients with Different Abilities: Increasing Healthcare Access. Dr. Pina described the importance of addressing depression in patients with heart failure and the tools available for providers to utilize in clinical settings—including self-care strategies such as exercise. Ensuring that patients of varying abilities have access to care and a supportive healthcare team is critical to improved patient outcomes.
Access recordings of the complete program in PCNA's on-demand Learning Library.
PCNA is grateful to sponsors Bristol Myers Squibb Company, Bristol Myers Squibb-Pfizer Alliance, Novartis Pharmaceuticals Corporation, and Pfizer Incorporated for supporting this event.