Friends from Across the Globe

We're pleased to share this sweet story of a chance connection and friendship kindled at this year's Cardiovascular Nursing Symposium.
Cheri Nichols: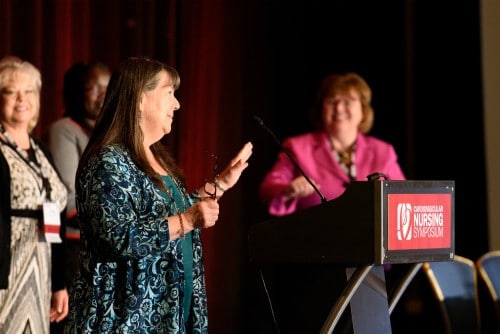 What began with a "welcome to PCNA" email developed into a cross-cultural friendship grounded in the spirit of nursing. This spirit knows no boundaries and provides a strong foundation for human connection between colleagues.
As Angeline Chepchirchir explored aspects of traveling to Baltimore for the recent 2018 Annual Symposium, she requested information and guidance from me, the only person she had contact with in America. A medical-surgical nursing instructor at the University of Nairobi School of Nursing Sciences in Kenya, Angeline was a brand new PCNA member who had never been to the U.S. and was excited to attend the symposium and present her poster, "Cytokine Expression and Hypertension Comorbidity in HIV/AIDS patients at Kenyatta National Hospital, Nairobi, Kenya". As a representative of the Membership Committee, I had written to her in February to introduce her to PCNA and over the next two months, we corresponded, discussing travel and accommodation options.
Ultimately, it made perfect sense to share my hotel room, blessing me with the opportunity to know this extraordinary woman from across the ocean and a continent away. Our troupe of western PCNA members from Colorado and Arizona embraced and oriented Angeline to the busy and exciting "symposium life". She was thrilled, as well, to reconnect with a Kenyan friend and colleague, James Muchira, who was also in attendance and an oral abstract presenter! Angeline and I found we were remarkably compatible and over the course of these days, she gave me a gift. Without intention to re-direct, instruct, or guide me, this Kenyan nurse, professor, mother of four and my new friend, reminded me that "life is best lived with simplicity"
Angeline Chepchirchir: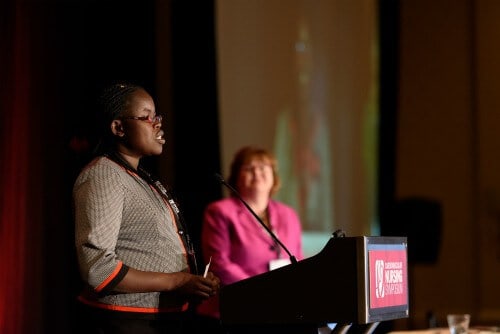 My journey to PCNA conference in Baltimore was actualized by Cheri Nichols, when she wrote me a congratulatory note upon my registration as an international PCNA Member. She also recognized my successful abstract submission for poster presentation.
Cheri encouraged me to attend the conference and exuded confidence that we would meet together. As a means to support my fundraising efforts, she made an extraordinary offer to share her hotel room with me.
Cheri became an invisible friend, whom I had no image of herself nor her having mine, until the day we met in the lobby of the hotel. Our encounter was great, as I met this charming lady and great mentor with an electric smile and never-ending desire to keep me in the know. I acknowledge Cheri's humility, hospitality, and simplicity: the true values of a nurse! She introduced me to PCNA Board members at every opportunity and I had the privilege of interacting with them at arm's length throughout the conference. I thank Cheri and everyone who made my journey a success!