Experience in Advocacy, by Maria Teresa Lira Correa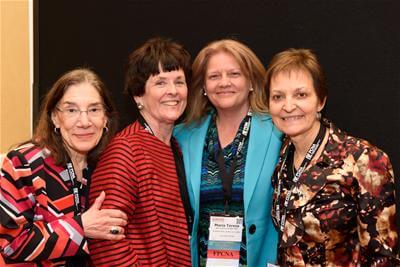 Maria Teresa Lira Correa, RN, CVNS, FPCNA of Santiago, Chile received PCNA's Advocacy Award for CVD Prevention in 2017. Here, she recounts her experiences and shares her advice for how to get started with advocacy.

Can you describe your career to date?
I am an RN (UC), with a post-graduate degree in Cardiovascular Health, Research (NIH) training and statistics (U Chile). I have been working for more than 30 years, the last 20 in research, mainly in CV prevention and risk factor awareness.

Why did you get involved in advocacy?

As a clinic nurse, I worked in a Coronary Care Unit and as we did everything for our critically ill patients to recover their health, I began to ask myself what could be done to prevent them from reaching this point. In 1999, we started raising awareness by checking CV risk factors of patients´ relatives and friends that came to visit. It was so successful that other workers of the hospital who learned about this came to get risk factors checked too!
In 2002, we applied to an international fund here in Chile and replicated this initiative at the population level. We checked CV risk factors and educated more than 12,500 individuals from 26 communities of Santiago, Chile, where more of the 40% of the country population lives.
This was a great opportunity to learn about our people´s awareness of CV risk factors and CV health. It highlighted that a great proportion did not know their CV risk factor values. For example, the analysis of available data evidenced that 8,127 (67.2%) did not know their blood pressure, 9,422 (77.9%) did not know their total cholesterol and 10,047 (83.1%) did not know their blood sugar. Moreover, from the people that knew their values were off the normal range, a substantial percentage had not attended their medical visits.
After this and other worrying results, I began to seek out every possible opportunity to raise awareness. I developed and participated in other population initiatives, coordinated public mass media campaigns, and organized health seminars for professionals involving authorities such as mayors of largest communities of Santiago and Viña del Mar and two national Ministers of Health.
What are you most passionate about, advocacy-wise?

I strongly believe that when you educate people and give them the right tools to live a healthier life you can empower their self-care capacities and avoid the life-threatening episodes as I saw too many times in the Coronary Unit. Also, when you share the results of strong evidence your community will support you in your initiatives. In summary, there is so much benefit with little investment in resources in a prevention approach, when compared to the high cost of treatment!
What are some advocacy accomplishments you're most proud of?
I believe that the highest accomplishment I've achieved has been to put CV health prevention and awareness in the public agenda, enabling individuals to know about their own CV health, sharing our local results, and gaining widespread support for initiatives. Also, to have been invited to be the only non-government RN in the CV Task Force National Program was a big accomplishment.
What would you tell someone who has never done anything advocacy-related before?
I would say that first, you must be passionate about your goal and that you have to be well prepared with strong evidence and a thoughtful plan of what you need from others. Also, be resilient when you do not achieve support; this is not failure, it is another opportunity from a different angle!