Hypertrophic Cardiomyopathy Lunch & Learn: Patient Adherence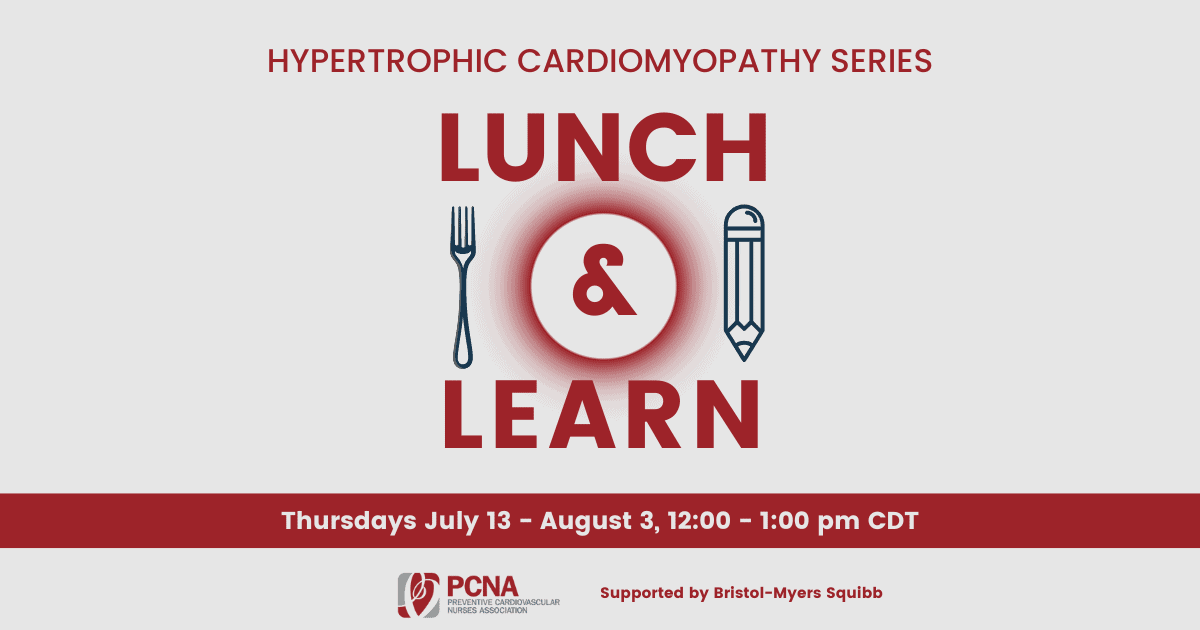 Join us on four consequent Thursdays for a lunch and learn series on hypertrophic cardiomyopathy. This week's sessions will cover Hypertrophic Cardiomyopathy: Patient Adherence.
This is a 4-part non-CE lunch and learn series.  You only need to register once but we hope you can join us live for all four sessions. All sessions will be recorded and saved in your classroom if you miss a live session.
Join us on the following days:
July 13 – Novel Treatments with Norma Flores, DNP, CRNP, AGACNP-BC, AACC, HF-Cert, CCRN
July 20 – Patient Access and Team-Based Care with Milind Desai, MD, MBA
July 27 – Patient Adherence with Matthew Martinez, MD, FACC and Stacey Titus, HCM Patient & Center of Excellence Coordinator
Aug 3 – Ask the Experts, led by Jane Linderbaum, MS, ARNP, FACC, FPCNA (with guests from previous weeks)
Supported by Bristol-Myers Squibb.
*Non-CE continuing education offers quality professional development that can be utilized in many work settings, for certification maintenance and more.
Learning Objectives
July 13  – Hypertrophic Cardiomyopathy: Novel Treatments
Identify characteristics of nonobstructive and obstructive HCM
Describe the mechanism of action of cardiac myosin inhibitor
Examine current literature and research into novel HCM treatments
Analyze best clinical practice scenarios
July 20 – Hypertrophic Cardiomyopathy: Patient Access and Team-Based Care
Discuss access considerations for novel HCM treatments
Explain potential barriers and related solutions to prescribing a cardiac myosin inhibitor, including prior authorizations and specialty pharmacy considerations
Compare team-based approaches for successful medication administration in clinical setting, pharmacy, and home
List the follow-up echocardiography requirements for HCM management
July 27 – Hypertrophic Cardiomyopathy: Patient Adherence
Describe the drug administration pathway from initiation to maintenance
Discuss signs and symptoms that signify a needed dose adjustment
Describe patient HCM treatment journey
Assess team-based care scenarios for improving outcomes for patients taking novel medications
August 3 – Hypertrophic Cardiomyopathy: Ask the Experts
Review highlights of team-based care approach to ordering and administering novel HCM pharmaceutical therapy
Using case-based scenarios, identify best practices for prescribing and administering novel medications for HCM
Discuss how to maximize effective communications in team-based care
Describe effective strategies for shared decision-making for patients with HCM and their family