Freeport Fall Chapter Program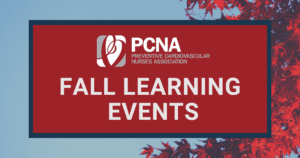 Join us for a complimentary educational event this fall, where you can network with colleagues, earn 1.0 CE contact hours (0.5 Phram) and learn more about PCNA. Hosted by the Freeport Chapter.
PCNA members and non-members are welcome to register and attend. Please share this with colleagues and friends.
Agenda
5:30 pm      Welcome and Introduction
6:00 pm      Heart Failure Guideline Update: Medications, Diagnosis and Co-Morbidities
7: 00 pm     Closing
Presentation Topic
Heart Failure Guideline Update: Medications, Diagnosis and Co-Morbidities (1.0 CE, 0.5 Pharm)
Learning Objectives
Understand the recommendations of pharmacotherapies from the 2016 heart failure guideline update
Identify the newest recommendations for initial and serial testing using biomarkers in patients with heart failure
Change practice based on new information for patients with heart failure with preserved ejection fraction (HFpEF)
Recognize guideline supported strategies for managing comorbidities in patients with HF, including hypertension, anemia and sleep apnea