A Decline in Hypertension Awareness Among Young Women

Thank you to Diana-Lyn Baptiste, DNP, RN, CNE, FAAN and Olubunmi Ogungbe, MPH, RN for this article on the decline in hypertension awareness in young women.
An Alarming Concern for Cardiovascular Nurses
Hypertension, or high blood pressure, is a leading risk factor for preventable deaths in the US.1 Almost half of US adults have hypertension, and only a quarter of those who have hypertension have their condition under control (≤130/80 mm Hg).2 Hypertension among young adults is common, affecting an estimated 1 in 8 adults who are between 20-40 years of age.3 Recently, hypertension and other chronic conditions have emerged as risk factors for severe illness and death from COVID-19, highlighting the importance of making hypertension control a national priority.
Although the prevalence of hypertension is lower among women (39.7%) than men (51%), if left unchecked, hypertension in women also increases the risk of pregnancy complications, kidney disease, and cognitive issues later on in life.4,5 Only 50% of women of reproductive age (18-44) have their hypertension under control. Uncontrolled hypertension during pregnancy (gestational hypertension, preeclampsia, and eclampsia) can pose serious harm to the mother and baby, including preterm birth and low birth weight.5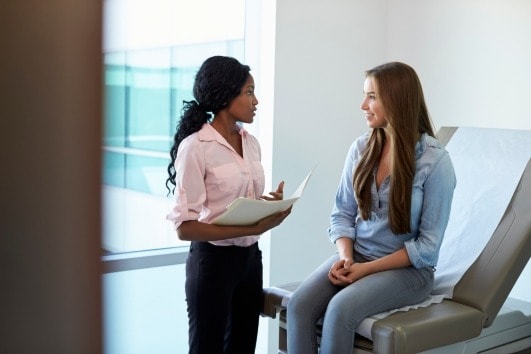 Declining Hypertension Awareness for Women
Despite national programs designed to educate women regarding the incidence of heart disease as the leading cause of death among women, knowledge of this health problem declined from 65% to 44% over the past 10 years.6 In 2019, only 37% of women with a history of hypertension were aware that heart disease was a leading cause of death.6 The greatest decline in awareness was observed among Hispanic women (86% decline), Black women (67% decline), and women between 25-34 years (81% decline).6 A decline in awareness of hypertension was also reported among women with lower educational attainment, low household income, and low socio-economic status.6
Urgent and sustainable, multi-pronged, and multilevel strategies are needed to address the decline in hypertension awareness for those individuals between 18 to 44 year of age, and particularly among Black, Indigenous, and women of color.2,6
Prevention Strategies
Preventing cardiovascular disease by informing women of their risk for hypertension and heart disease, as well as heightening the need to reduce disparities, is of preeminent concern. To promote healthy behaviors, key recommendations from the American Colleges of Cardiology and American Heart Association (ACC/AHA) include the following seven metrics (Life's Simple 7®)7:
Maintain a normal blood pressure
Maintain a low total cholesterol
Maintain a normal blood sugar
Maintain a normal weight,
Get regular physical activity
Eat a heart-healthy diet
Smoking cessation
See PCNA's Heart Healthy Toolbox for professional and patient resources that support a healthy lifestyle and behavior change.
Implications for Young Adults
Recent research also suggests that a sudden elevation in blood pressure during young adulthood is associated with an increased risk of cardiovascular disease.8 This can have serious implications for young adults who may perceive they are at a reduced risk; specifically for young women in whom pregnancy, childbirth, and certain birth control methods contribute to increasing their risk for hypertension.5 As such, healthcare providers should be alerted to monitor young adults' blood pressure measurements as well as variability in their readings. Home and self-monitoring of blood pressure should not only be encouraged among older adults; younger women alike should be taught and encouraged to monitor their blood pressure at home.
With the decline in hypertension awareness among young women, it is imperative that cardiovascular nurses pay close attention and implement screening programs that target younger populations. For instance, young people between 18-31 years are less likely to receive a timely diagnosis of hypertension compared to persons 60 years or older.3 Consequently, healthcare providers should intensify preventative hypertension care, education and counseling, and early detection and early risk conversation with young women. This also includes advocating for incorporating comprehensive hypertension and cardiovascular screening in gynecological wellness examinations, on college campuses, and at beauty salons.9
Cardiovascular nurses need to be vigilant. Consider the following strategies:
Prioritize promoting awareness of hypertension and the potential consequences of cardiovascular disease when untreated or under control.
Partner with community-based organizations and local groups to develop contextually appropriate messaging to increase hypertension awareness.
Hold community screenings, or teach about self-monitoring of blood pressure.
For younger women, in particular, hypertension awareness programs and campaigns should begin in community spaces where they congregate, such as workplaces, and churches.
In the midst of the COVID-19 pandemic, offer opportunities to encourage conversations about hypertension screening and promote social support among women. Examples of such opportunities may involve the use of virtual networks, webinars, social media groups, and online discussion forums.
References
Ritchey MD, Gillespie C, Wozniak G, et al. Potential need for expanded pharmacologic treatment and lifestyle modification services under the 2017 ACC/AHA Hypertension Guideline. J Clin Hypertens (Greenwich).2018;20(10):1377-1391.
Whelton PK, Carey RM, Aronow WS, et al. 2017 ACC/AHA/AAPA/ABC/ACPM/AGS/APhA/ASH/ASPC/NMA/PCNA Guideline for the Prevention, Detection, Evaluation, and Management of High Blood Pressure in Adults: A Report of the American College of Cardiology/American Heart Association Task Force on Clinical Practice Guidelines. Hypertension.2018;71(6):e13-e115.
Hinton TC, Adams ZH, Baker RP, et al. Investigation and Treatment of High Blood Pressure in Young People: Too Much Medicine or Appropriate Risk Reduction? Hypertension.2020;75(1):16-22.
Ostchega Y, Fryar CD, Nwankwo T, Nguyen DT. Hypertension Prevalence Among Adults Aged 18 and Over: United States, 2017-2018. NCHS Data Brief.2020(364):1-8.
Miller KB, Miller VM, Barnes JN. Pregnancy History, Hypertension, and Cognitive Impairment in Postmenopausal Women. Curr Hypertens Rep.2019;21(12):93.
Cushman M, Shay CM, Howard VJ, et al. Ten-Year Differences in Women's Awareness Related to Coronary Heart Disease: Results of the 2019 American Heart Association National Survey: A Special Report From the American Heart Association. Circulation.2020:Cir0000000000000907.
Arnett DK, Blumenthal RS, Albert MA, et al. 2019 ACC/AHA Guideline on the Primary Prevention of Cardiovascular Disease: A Report of the American College of Cardiology/American Heart Association Task Force on Clinical Practice Guidelines. Circulation.2019;140(11):e596-e646.
Yano Y, Reis JP, Lewis CE, et al. Association of Blood Pressure Patterns in Young Adulthood With Cardiovascular Disease and Mortality in Middle Age. JAMA Cardiol.2020;5(4):382-389.
Muntner P, Abdalla M, Correa A, et al. Hypertension in Blacks: Unanswered Questions and Future Directions for the JHS (Jackson Heart Study). Hypertension.2017;69(5):761-769.