Clinical Trials: Leading the Way as a Cardiovascular Nurse

Clinical trials in medicine—including cardiology—are a cornerstone for understanding how treatments affect our patients. Historically, many clinical research projects focused on white, male participants of a particular age, and we now know that simply extrapolating data from one set of study subjects does not necessarily correlate to effective practice guidelines for treating our diverse patient communities.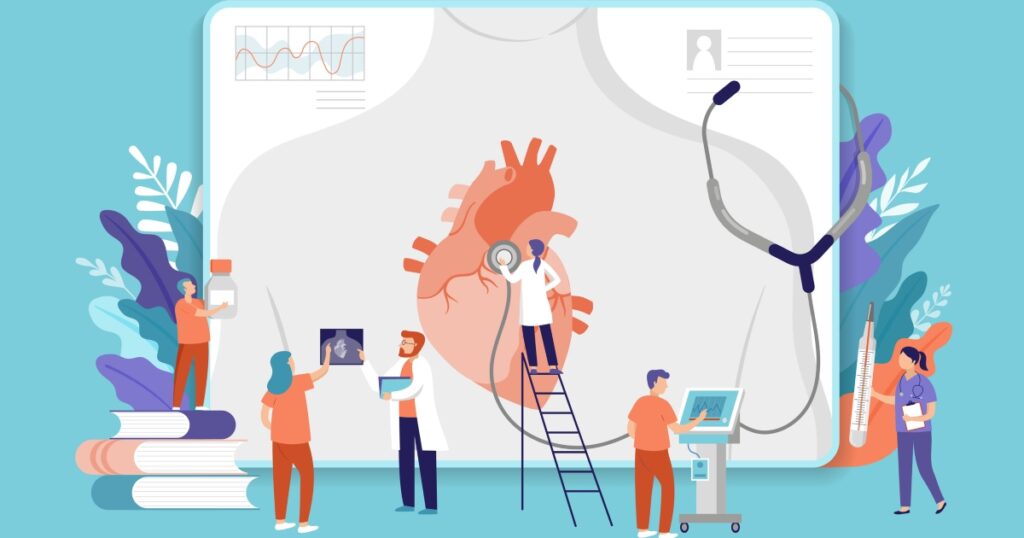 Historical Imbalance in Trial Participation
The imbalance between the diversity of participants in clinical trials compared to the U.S. population has been called out in the annual FDA Drug Trial Snapshots[i] and other sources. Aiming for clinical trial demographics that more accurately represent the population as a whole—and even, more importantly, demographics of those most affected by a particular disease—ensure accurate assessment of the impacts of these potential treatments on the patients most likely to use them.
Individuals are not all the same physiologically—perhaps due to age, illnesses, or genetic ancestry—so the way a medication is metabolized may result in vastly different clinical outcomes.[ii] Trial design has often failed to account for gender, racial, or ethnicity differences in disease patterns, making the recommendations based on clinical trials potentially inaccurate, ineffective—or worse, deadlier—when the result are applied in clinical practice to individuals who are not part of the study group. As cardiovascular nursing professionals, we have an obligation to ensure that we have accurate data about ALL of our patients so that our clinical practices are as appropriate as possible.
Taking Steps Toward Equity
A 2022 report from the Committee on Improving Representation of Women and Underrepresented Minorities in Clinical Trials and Research illustrates the critical shortcoming of the lack of representation in clinical trials—as well as possible solutions.[iii] No matter our role or practice setting, there are several ways that we each may contribute to ensuring representation in clinical trials.
Being mindful of previous inequities in clinical research, and ensuring that research design is as fair, inclusive, and representative as possible are key steps towards ensuring that trial participation, and therefore results, are as applicable to as wide a swath of potential patients as possible.
Don't Be Afraid to Ask
Identifying potential barriers to participation—before, during, and after research projects take place—will make a significant impact on our patients and our practice.
Historic—and even contemporary—exploitation of individuals from marginalized and underrepresented populations in medical research and medical care is well documented and has impacted both individuals and communities. Yet the distrust and hesitancy attributed to these populations are not necessarily associated with a lack of willingness to participate in clinical trials. Evidence reveals that individuals who are Asian, Black, Latinx American, and American Indian/Alaska Native are equally, if not more, likely to participate in research—if they are asked.1
Nurses are the most trusted profession and are well-versed in effectively communicating with patients and addressing fears and inaccuracies. While trial recruitment may not be the top concern in the clinical practice setting, trusted professionals such as cardiovascular nurses and other health care professionals (HCPs) can make a significant impact on potential participation by broaching the topic, effectively answering questions and addressing concerns, and ensuring that patients and family members have accurate information about the process. It is important to recognize our internal biases in identifying which patients we might ask so that we don't miss an opportunity to discuss the possibility of trial participation.
Minimize Transportation Barriers
One significant barrier to participation in clinical trials is the physical act of getting to the trial site, such as a hospital, as well as the time involved and the cost of transportation and food. Selection bias can inadvertently limit clinical trial participation to individuals who are relatively affluent or who have white-collar jobs when potential participants have limited disposable income, few transportation options, are penalized by employers when away from the work setting, or have other obligations such as caring for family members.[ii] Potential opportunities for increasing participation by a wider demographic include the following:[iv]
Hosting procedures at sites closer to where people from diverse backgrounds live and work, such as HCP offices in communities and neighborhoods.
Including recruiters and trialists who reflect the population being served.
Partnering with trusted community organizations in the development, recruitment, and location(s) of trial interactions.
Utilization of longer site hours, home visits, and televisits.
Providing transport support in the form of gas cards and parking fees.
Inclusive Trial Design: Additional Strategies
Trial design is one of the most important aspects of ensuring participation by a wide demographic. In addition to site selection and transportation issues previously described, the following potential barriers should be addressed when planning and implementing trial studies:[iii]
Research study processes

Participant selection including sampling/recruiting methods, and criteria

Avoid exclusion based on preconceived notions of potential adherence to the protocol(s)

Protocols including consent and remuneration

Multilingual recruitment and consent information

Institutional structures which may limit the engagement of the research institutions with community populations
Institutional review boards
Research and industry funders
Medical journal biases in the publication of studies
A recent change in focus to ensure inclusive trial design is to include a "patient representative" as a member of the investigative team and to query a focus group of the affected population throughout the trial design process so that all aspects of the trial will resonate with both researchers and those being studied. For example, it is standard in many cardiovascular trials for researchers to be concerned about the ability to prevent deaths; but to a patient with poor health and lots of morbidities, it may be that the greatest concern is having a stroke or other outcomes that interfere with quality of life.
Career Opportunities
Partnering with researchers in your practice environment is a way to advocate for improving our knowledge about treating our diverse populations. Another way to get involved is to consider a career in clinical research. There are many opportunities to work with researchers who are helping define cardiovascular practice as research coordinators and data and program managers in all areas of cardiovascular disease (exercise and health promotion, heart failure, lipid and hypertension management, ischemic heart disease, as well as more broad-based approaches around epidemiology, population health). Start by reaching out to the research teams in your local practice area or local academic medical center to learn more.
Find out more: Research and Resources
How can you find out what research is being done in your area of specialty/interest, and how to potentially get your patients involved? Clinical trial information may be found in local, regional, or national resources. Patients can even sign up with ResearchMatch to be added to a database of potential volunteers.
General Clinical Trial Information
Diversity in Trials
Finding Clinical Trials
Trials Today – a quick way to search ClinicalTrials.gov
Organizations, such as your local hospital or university; examples:
Sign Up to Volunteer
Career Options
---
[i] U.S. Food & Drug Administration. Drug Trials Snapshots. Reviewed 05/16/22. https://www.fda.gov/drugs/drug-approvals-and-databases/drug-trials-snapshots. Accessed Nov. 13, 2022.
[ii] Boyle, P. American Association of American Medical Colleges News: Clinical trials seek to fix their lack of racial mix. Aug. 20, 2021. https://www.aamc.org/news-insights/clinical-trials-seek-fix-their-lack-racial-mix. Accessed Nov. 13, 2022.
[iii] National Academy of Sciences Engineering and Medicine. 2022. Improving Representation in Clinical Trials and Research: Building Research Equity for Women and Underrepresented Groups. Washington, DC. The National Academies Press. https://doi.org/10.17226/26479.
[iv] Yates I, Byrne J, Donahue S, et al. Representation in Clinical Trials: A Review on Reaching Underrepresented Populations in Research. The Association of Clinical Research Professionals. 2020;34(7). https://acrpnet.org/2020/08/10/representation-in-clinical-trials-a-review-on-reaching-underrepresented-populations-in-research/ Accessed Nov. 14, 2022