Areas Served
The TN Upper Cumberland Chapter of the Preventive Cardiovascular Nursing Association serves the area of Cookeville and Putnam County, as well as the surrounding areas of Smith, DeKalb, Fentress, Overton, White, Jackson, and Cumberland counties including the city of Crossville, TN.
Volunteer
Contact Jennifer to learn more about getting involved with the East Tennessee Chapter.
Chapter Background
Get to Know Your Chapter Leadership Team!
The TN Upper Cumberland Chapter was started in 2022 to provide nurses professional growth opportunities through national and local membership, networking, education, and volunteer work. Chapter activities include free bi-annual continuing education programs, networking meetings, and volunteer opportunities in the Upper Cumberland region.  Both members and non-members are invited to attend chapter events. In addition, we support the professional development of members by providing a platform for teaching, mentoring, and leading in professional practice.
We strive to engage all nursing professionals in strengthening their cardiovascular knowledge to assist our communities in living healthier in hopes to decrease cardiovascular disease incidence in our region through the promotion of PCNA membership and its benefits.  We welcome new members!  Please join us at our next event and consider joining PCNA if you are not already a member.
Chapter Connect
Chapter Meetings are the 2nd Thursdays of every Month at 7pm unless there is a community outreach or learning event planned for that month.  Our next chapter meeting will be August 11th @ 7pm.
Check us out on our Facebook page for the latest information on our chapter and to connect with fellow members!

Chapter Leader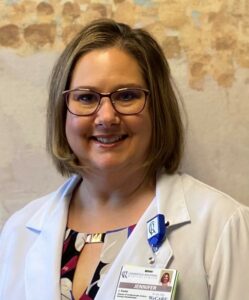 Jennifer M. Eaves, DNP, MSN, RN
Other Chapter Leaders
Chief Education Specialist
Heather Davenport, BSN, RN, CCRN-CMC
Communications & Marketing Director
Dianna Goodwin, MSN, RN
Community & Membership Outreach Coordinator
TBD
Chapter Contact Email