2023 Poster and Abstract Winners

PCNA annually extends an invitation to nurses and other healthcare professionals to present abstracts on cardiovascular risk reduction and disease management at the Cardiovascular Nursing Symposium. The submitted abstracts can be classified under three categories: original research, innovative projects, and graduate capstone. For the 2023 Cardiovascular Nursing Symposium, PCNA accepted a record-breaking total of 38 posters! All posters are available for viewing in the Virtual Poster Session.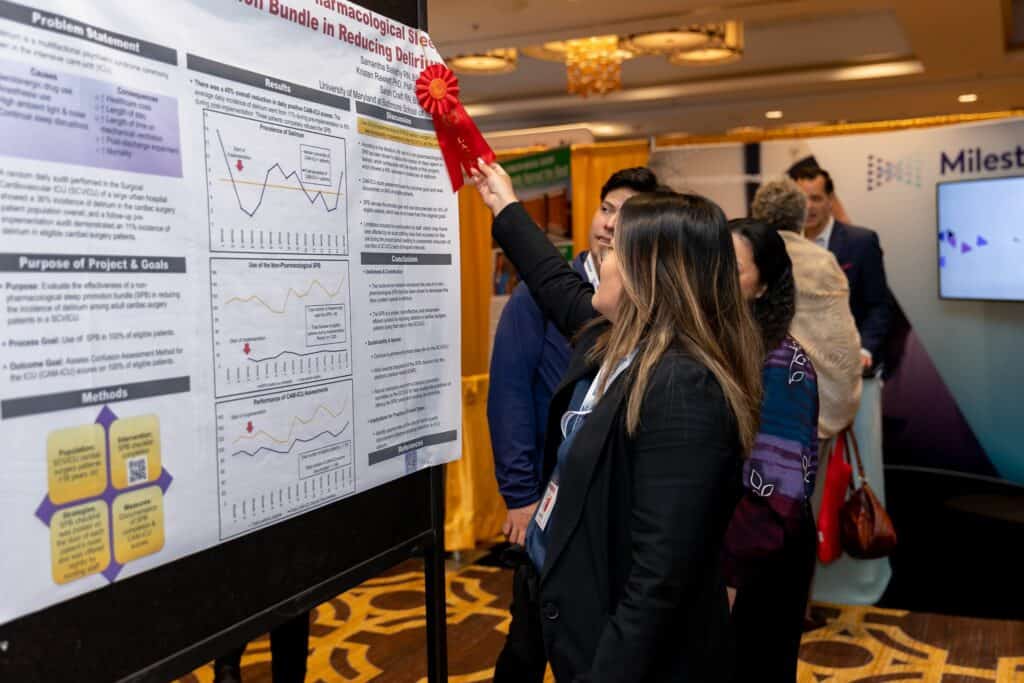 Oral Abstract Winners
The top abstracts from each category were invited to make an oral presentation at the 2023 Cardiovascular Nursing Symposium.
Arum Lim, MSN, RN was the Original Research category winner with her research titled "Heterogeneity in the Prevalence of Cardiovascular Risk Factors by Ethnicity and Birthplace among Asian Subgroups: Evidence from the 2010-2018 National Health Interview Survey".
Krista Montgomery, BSN, RN presented her Innovative Project "Standardization of Inpatient Telemetry Monitoring on Medical/Surgical Units".
Sarah Gilpatrick, RN, BSN presented her graduate capstone abstract titled "Improving Cardiac Functional Status Through Self-Care Assessment and Education".
Poster Winners
Our Abstract Review Committee handpicks the top two posters in each category. These exceptional six posters and the three oral abstract winners will be published in the Journal of Cardiovascular Nursing. Our heartfelt congratulations to all the poster winners!
Innovative Project
1st Place Winner
Standardizing Optimal Medical Therapy in Heart Failure Patients to Improve NCDR Metrics for ICD Implantation
Adenike Okeowo, DNP, CHNP, FNP-C, CHFN
2nd Place Winner
Improving Heart Failure Education: Evaluating Knowledge and Confidence in the Use of Teach Back in Cardiac Rehabilitation
Angela Summer, MPA, MSN, RN, CVRN-BC
Original Research
1st Place Winner
Racial and Ethnic Differences in Perception of Providers' Cultural Competency among Adults with Hypertension in 2017 National Health Interview Survey
Faith E. Metlock, BSN, RN
2nd Place Winner
Heterogeneity in Prevalence of Cardiovascular Health Behaviors among US-Born and Foreign-Born Latino Subgroups: Evidence from National Health Interview Survey
Sabrina Elias, PhDc, MSN, RN
Graduate Capstone
1st Place Winner
Nasal Bridling for the Improved Delivery of Enteral Nutrition in the Medical CVICU
Mary Ellen Rose Hannan, BSN, RN
2nd Place Winner
Effects of a Non-Pharmacological Sleep Promotion Bundle in Reducing Delirium
Samantha Balajthy RN, BSN, CCRN