2022 Cholesterol Summit Recap: Closing the Gap in Optimal Cholesterol Management 

PCNA's one-day virtual Cholesterol Summit on May 12 provided learners opportunities to learn from thought leaders on closing the gap in optimal cholesterol management. Speakers included clinicians and patients from across the U.S. and Canada who shared strategies and best practices to help those in clinical practice understand and apply guidelines in the primary and secondary prevention of atherosclerotic cardiovascular disease (ASCVD). Learn a bit more about the content, and (if you didn't attend the live event), watch the recordings in our online learning library – each session is linked below.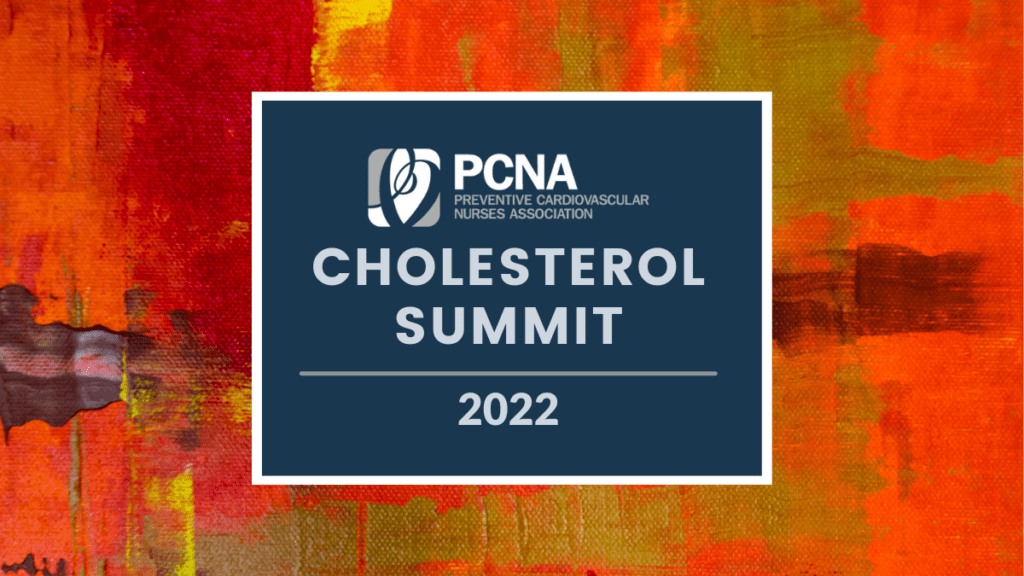 Dyslipidemia is one of the major modifiable risk factors for cardiovascular disease (CVD), and along with hypertension, smoking, and diabetes, is a significant cause of death and disability in the U.S. and in the world. Nearly 1 of every 3 American adults (94 million) has elevated blood cholesterol levels (higher than 200 mg/dL), and 28 million U.S. adults have total cholesterol levels greater than 240 mg/dL.i
The 2019 updated prevention guidelinesii provide a renewed opportunity for professional education regarding the management of dyslipidemia and related risk factors for ASCVD. With consideration of the impacts of social determinants of health, health care providers aid patients in understanding their risks, and assist in identifying strategies for risk reduction and management. The 2022 Cholesterol Summit focused on understanding and applying guidelines for dyslipidemia into practice.
Marlys Koschinsky, PhD, FAHA, FNLA, FCAHS, FACC, OOnt, described the links between Lipoprotein A (Lp(a)) and ASCVD Risk. Beginning with the global prevalence, Dr. Koschinsky provided data on the links between Lp(a) and atherosclerotic cardiovascular disease (ASCVD), and calcific aortic valve disease (CAVD), before diving into the structure of Lp(a), genetics, and the importance of measurement. She also covered the impacts of various pharmacotherapies on Lp(a)
Seth Baum, MD, FACC, FAHA, FNPLA, FASPC, and patient advocate Allison Jamison discussed patient perspectives of Homozygous Familial Hypercholesterolemia (HoFH). Dr. Baum described how clinicians can effectively recognize and manage the spectrum of heterozygous FH (HeFH) and HoFH, the importance of early diagnosis, and the efficacy of various pharmacotherapies. Allison shared her personal journey to diagnosis, starting with xanthomas at age 3 but without an HoFH diagnosis until age 36. Her patient perspective provided motivation for clinicians to always keep FH in mind, to consider HoFH much earlier in their interactions with patients, and to recognize that FH and HoFH affect the entire family.
Gina Lundberg, MD, FACC, FAHA, covered the role of non-statin therapies in optimal cholesterol management. While encouraging clinicians to treat ASCVD earlier with the goal of reducing ASCVD impacts and preventing related deaths, Dr. Lundberg described residual ASCVD risks, statin side effects, undertreatment of FH, and how to help improve medication compliance.
Lisa Maher, DNP, ARNP, FNP-BC, FPCNA, and patient advocate Marla Cohen introduced the audience to overcoming provider and patient inertia. Both speakers encouraged clinicians to be proactive rather than reactive in addressing cholesterol treatment. Marla shared her experiences as a patient with dyslipidemia and her recent journey with evolocumab. Dr. Maher discussed putting guidelines into practice using team-based care, electronic health record functions, and decision support aids. Dr. Maher shared a relatable case study illustrating shared decision-making throughout lipid management.
Lynne Braun, PhD, CNP, FPCNA, FAHA, FAANP, FNLA, FAAN, shared about improving adherence to cholesterol-lowering therapies with a patient-centric model of care. Dr. Braun guided the audience through guideline-driven, shared decision-making strategies to prevent and manage ASCVD. Additionally, Dr. Braun described the costs of medication non-adherence, causes, and approaches to address this critical component of care, including the impacts of community health workers.
The Summit concluded with Joe Saseen, PharmD, FNLA, CLS, describing transitioning from acute to chronic lipid management. Within the lens of the social determinants of health and their impacts on patients, Dr. Saseen described guideline-based cholesterol treatments and the importance of helping patients overcome barriers to treatment adherence. Statin therapy, as Summit faculty described, may be fraught with patient concerns, real or perceived side effects, and noncompliance. Dr. Saseen also addressed effective shared decision-making to improve patient outcomes.
Another component of the Cholesterol Summit included an interesting presentation about a next step in LDL-C-lowering therapy: oral nonstatin therapies presented by Esperion Therapeutics.
PCNA is grateful to the sponsors of the 2022 Cholesterol Summit: Amgen, Inc., Esperion Therapeutics, Inc., Novartis Pharmaceuticals Corporation, and Regeneron Pharmaceuticals, Inc.