10 Reasons to Attend the 29th Annual Cardiovascular Nursing Symposium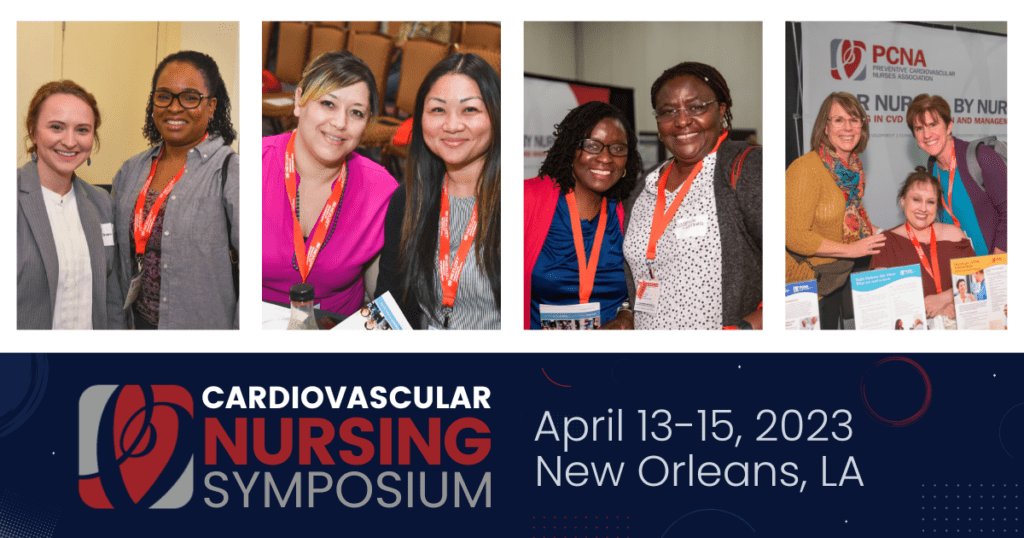 Whether you attend the 2023 Cardiovascular Nursing Symposium in person, virtually, or watch the recorded sessions, you're bound to get an incredible return on your investment. Live events take place April 13-15, 2023 at the Sheraton New Orleans Hotel, or virtually with simultaneously broadcasted sessions.
We put together a list of 10 reasons to attend the 2023 Cardiovascular Nursing Symposium.
You're excited to hear from sensational speakers. PCNA is known for bringing together world-renowned faculty who inspire, instruct, engage, and enrich. You can meet or reconnect with leaders in the field of cardiovascular health, be inspired, and learn new or updated information and skills that you can apply in your work setting. You can find the entire agenda here.
You're interested in hearing the latest and greatest in the treatment of Heart Failure since the 2022 guidelines release. Join Dr. Nancy Albert to examine guideline updates, the application of guidelines to practice, and an important review of the impact of social determinants of health on Heart Failure.
You could use a little springtime in the South. While we can't control the weather, springtime in New Orleans may hold great appeal. Temperatures average between the 60s and 70s. No matter where you call home, the beauty of New Orleans in the spring can provide a much-needed boost to your well-being. Check out the Sazerac House, French Quarter Festival, Moulin Rouge musical, and many world-class restaurants. Admire the mighty Mississippi steps away from the conference hotel, take advantage of nearby cultural institutions, and even visit a national park in the heart of the city.
You'd like some guidance, or affirmation, on the treatment of cardiovascular disease states. Dr. Keith Ferdinand will guide you through the role of Lp(a) in CVD, Dr. Janet Wright will walk us through the impact nursing can make on hypertension health burden reduction, and Dr. Kimberly Guibone will describe navigation of what's new in structural heart interventions.
You want to build your clinical skill set. Learn about the positive impact of cardiac rehabilitation programs for CVD patients with Dr. Robert Scales, take a deep dive into the complex field of CVD diagnostic testing options and interpretation with Dr. Abhinav Saxena, and test your knowledge of rare arrhythmias and their pathophysiology with Dr. Dan Sorajja.
You want to improve patient care and outcomes. Evaluations of previous symposia indicate participation makes a significant difference in patient care. From effectively applying guideline-directed medical therapy (GDMT) and strategies to improve medication adherence, to utilizing new educational resources and hands-on skills such as EKG results, healthcare professionals who work directly and indirectly with patients can help improve patient outcomes by applying what they've learned.
You're ready to get back to the basics. Hear the perspective and experience of Dr. Valerie Hoover, Licensed Clinical Psychologist, as she walks you through behavior change and its impact on cardiovascular risk factors.
You want to advocate for yourself, your colleagues, and your patients. PCNA strives to make advocacy efforts on behalf of nurses and patients as simple as possible. Participating in Advocacy Day at the Cardiovascular Nursing Symposium provides opportunities for you to contribute to your profession. Not only will you be working to improve healthcare, but you will also have the opportunity to educate lawmakers by sharing your expertise on issues.
You want a better understanding of the assessment and treatment of chest pain. Tune in to hear Dr. Debarbrata Mukherjee, guideline writing committee member, explain the key differences in cardiac versus non-cardiac chest pain scenarios.
You need continuing education contact hours! While learning for its own sake may be what you are after, you also may need continuing education (CE) contact hours for renewing your license or certification. Attend all of the sessions to earn 14.6 CE contact hours—including 5.4 pharmacology. Sessions focus on topics of interest to health care professionals in a variety of settings—and you won't have to search through a multitude of potential sources for possible sessions that may (or may not) be applicable to you in your normal work.
Learn more about the 28th Annual Cardiovascular Nursing Symposium and webcast, view the program schedule, and register!